Brands vie to join city's top 10 rankings
The 2019 Beijing Cultural Consumption Brands Rankings results will be released in late December, said organizers of the seventh Beijing People Beneficial Cultural Consumption Season. They began accepting entries on July 31.
As one of the main activities of the annual cultural consumption season, the rankings are designed to improve the brand awareness of cultural products, boost the value of cultural resources, and increase awareness and consumption of cultural products. The rankings debuted in 2016.
"The event not only helps time-honored brands in Beijing to better deliver their value to customers, but supports many new faces with great potential to catch the public eye," a local official said.
The top 10 cultural brands in five categories - creative products, tourism routes, consumption landmarks, sports events and performances - will be highlighted. This will come after a process consisting of public collection, channels submission, online voting, expert reviews and media recommendations.
The rankings are organized by the organization committee of the season and the Capital Culture Industry Association, and supported by central and municipal media agencies, websites, social media platforms and government organizations.
In 2018, a host of brands impressed Beijing residents. Short video application Tik Tok, Chinese Spring Festival mascot Nianwa Chunni and a handmade gold bowl were among the top 10 cultural and creative products. The Beijing Tianqiao Performing Arts Center and Sanlitun were on the list of top 10 cultural consumption landmarks.
The 2018 Beijing Fashion Week and photography exhibition titled Capital Star Art Film Theaters League International Vision B&R were among winners of the top 10 cultural performances.
More than a capital city, Beijing is also the national culture center boasting countless products and services.
The ranking is in line with Beijing's cultural development principle that is people-oriented. All the brands on the list will be what Beijing residents can experience or consume. They will not only help Beijing residents have a better sense of culture, but offer a culture of Beijing to pass on, local officials said.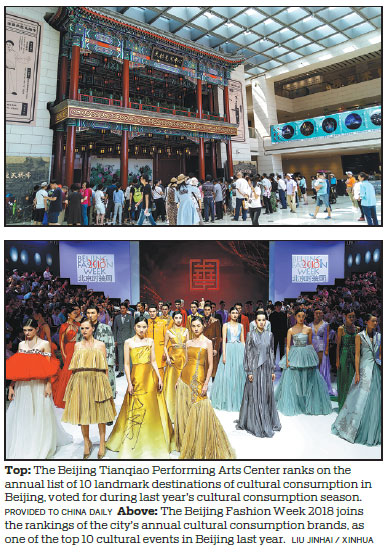 (China Daily 08/12/2019 page7)
Today's Top News
Editor's picks
Most Viewed