Mountain traders using the power of going viral
HEFEI - As his train passed through a canyon shrouded by clouds, Yin Zichun felt it worthwhile to visit Mount Huangshan. He had watched a video of it with millions of likes on the Douyin app.
"It felt like we were entering a landscape painting, which is even more beautiful than what is presented in that Douyin video," said Yin, a tourist from Shanghai.
A UNESCO World Heritage site, Mount Huangshan, also known as the Yellow Mountain, in eastern China's Anhui province has been a traditional spot renowned for its magnificent natural beauty.
The train Yin took is the sightseeing cable car of the Xihai Grand Canyon in Mount Huangshan. Launched in July 2013, this tourist facility went viral on the internet in the summer of 2018. It was caused by a video clip posted by a tourist, which received more than 2.3 million likes.
Accompanied by classical music, the video, which lasts about 10 seconds, shows the picturesque peaks and clouds during the train tour.
According to Wang Lin, a staff member of the cable car in the Xihai Grand Canyon, daily visitors in peak season were only about 3,000 in 2013. But now it has reached as high as 8,000.
To improve the tourist experience, the transport capacity of the cable car was increased from 700 to 900 per hour.
"For some people, Mount Huangshan has been regarded as a huge and arduous mountain to climb. We are developing more attractive projects and using new promotion methods to attract visitors," said Wang. He frequently posts video clips about the mountain on Douyin.
Since the train went viral on the internet last summer, about 1.9 million tourists visited Huangshan in the second half of 2018. It represented a 10.14 percent increase over the previous year. The total number of tourists reached 3.38 million in 2018.
New media also brings about more opportunities for hotels in the area. Huangshan Yupinglou Hotel, a four-star hotel established in 1955, is one that has seized the opportunity with its unique terrace.
The terrace, at an altitude of 1,716 meters, was opened to the public in April this year after reconstruction. Located between the two most famous peaks of Mount Huangshan - Tiandu and Lotus - it is an ideal venue to view the scenery, making it popular on Douyin.
Yang Yang, a 45-year-old tourist from Southwest China's Sichuan province, is among those who are drawn to the hotel terrace by the video clips.
On this secluded terrace, Yang ordered a cup of tea and immersed himself in the rolling clouds and towering mountains for half a day.
"It is so quiet here that you can fully enjoy the fresh air and relax," he said.
The hotel also offers various cultural activities such as tea ceremonies, yoga and tai chi lessons on the terrace.
According to Pan Meili, manager of the hotel, the turnover in the first half of 2019 hit 170,000 yuan ($24,490), up 41.7 percent year-on-year.
"We should innovate both services and marketing to follow the change of times," Pan said.
Xinhua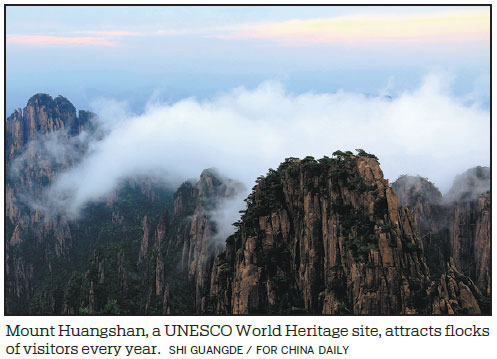 (China Daily 08/03/2019 page6)
Today's Top News
Editor's picks
Most Viewed