Chengdu takes the lead in green development
Sichuan capital playing important role in promoting low-carbon industries
A number of projects with cutting-edge technologies are putting the southwestern metropolis of Chengdu at the forefront of China's low-carbon growth, according to the city's officials and entrepreneurs.
Local authorities said the capital of Sichuan province was among pilot cities in China in low-carbon development, and the government is exploring a model for high-quality, eco-friendly and sustainable growth.
Hydrogen energy is one area pushing forward the city's sustainable development.
According to local officials, Chengdu is one of the first cities in the country to use hydrogen-fueled vehicles for public transport.
In April last year, 10 hydrogen-powered buses were commissioned to serve commuters in Chengdu's Pidu district, making Sichuan the second province after Guangdong to use such buses.
The hydrogen fuel cells used in the buses were developed and produced by the Chengdu-based company Dongfang Electric.
"Dongfang Electric began to develop hydrogen fuel cells in 2010," said Cao Jianjin, general manager of the company's hydrogen fuel cell business.
He added that after nearly a decade of development, the company now has a range of hydrogen battery products that can be used in vehicles and in other industries.
Through the trial operation of hydrogen-fueled buses in Chengdu, the company has tested the batteries' performance in safety, reliability and adaptivity to environment, yielding positive results, Cao said.
By the end of May, trial operations had covered a total distance of 400,000 kilometers, with the longest single-vehicle distance being more than 52,500 km.
"The per 100-km hydrogen consumption is 3.37 kilograms, and other areas of performance of the cells have taken a lead in the country," Cao said.
As hydrogen fuel cells produce zero emissions, Dongfang Electric estimates that there could be a reduction of 2 million metric tons of carbon dioxide in Chengdu if all the buses, lorries and heavy trucks in the city were powered by such a battery system.
In April, the company's automatic hydrogen fuel cell production facility became operational in Chengdu, capable of producing 1,000 hydrogen fuel cell engines annually, according to Cao.
"We produce the cells through the electrolysis of water and the electricity used for the production comes from hydropower stations in Sichuan, which means the whole process is environmentally friendly," said Lyu Hongyan, deputy general manager of the Dongfang Electric's hydrogen fuel cell business.
She said Sichuan is rich in hydroelectric power resources, allowing large-scale production of hydrogen fuel cells.
According to officials at the Chengdu economic and information technology bureau, another 110 hydrogen-fueled vehicles will be added to the city's public transportation fleet within this year and more than two hydrogen filling stations will be built.
Statistics show Chengdu is home to more than 50 hydrogen energy-related businesses, covering a full value chain from research and development to manufacturing.
The bureau's officials revealed that Chengdu's authorities are working on a development plan for the hydrogen energy industry, of which annual output is expected to surpass 50 billion yuan ($7.28 billion) in the near future.
Another product that puts Chengdu in globally leading position in the green energy industry are cadmium telluride thin film solar cells, also known as "power-generating glass".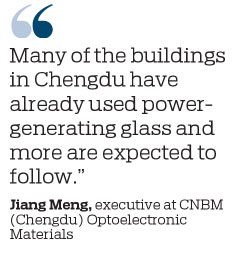 The product can be applied to the outer walls of buildings and features great sensitivity to low light. It is estimated that a piece of standardsized 1.92-square-meter power-generating glass can produce 260-270 kilowatt-hours of electricity a year.
In April last year, China's first power-generating glass production plant became operational in Chengdu's Shuangliu district.
Invested in by CNBM (Chengdu) Optoelectronic Materials, the facility mainly produces 1.92-sq-m cadmium telluride thin film solar cells and components.
According to Jiang Meng, an executive at the company, the power-generating glass is a cross-industry product that can be used both in the energy industry and building materials market.
"Many of our clients are using power-generating glass to take the place of traditional outer-wall glass," said Jiang.
He added the headquarters building of CNBM in Chengdu is covered by such glass, which can supply 20 to 30 percent of all power consumed in the building.
"Many of the buildings in Chengdu have already used power-generating glass and more are expected to follow," Jiang said.
He revealed his company can currently produce a 100-megawatt equivalent of such products annually.
"We are planning to build 50 plants nationwide capable of producing 5 gigawatts a year and 10 of those plants will be in Sichuan," Jiang said.
As one of the nation's pilot cities in low-carbon, green development, Chengdu has made great efforts in growing environmentally friendly industries and promoting the construction of a low-carbon city.
The city government released a low-carbon and recycling development report - the first blue paper in this field in China - in May 2018 to define the key tasks in areas of government administration, industries, urban management, energy, consumer market and carbon trade.
Chengdu has also enhanced international cooperation in low-carbon development by carrying out a number of joint projects with overseas partners and hosting international events.

As a result of the city government's new campaign to improve air quality, the number of days with good or excellent air quality reached 251 in 2018, 16 days more than the previous year.Provided To China Daily

(China Daily 07/15/2019 page12)
Today's Top News
Editor's picks
Most Viewed