Carmakers falling short on NEV requirements
More than half of all manufacturers operating in the country need to make up for short fall by purchasing credits
More than half of passenger carmakers operating in China did not meet the country's gasoline consumption standards in 2018, meaning they'll have to work harder to produce electric vehicles if they don't want to pay for credits.
Out of 141 brands in the country, 75 automakers need to buy credits from other companies, according to statistics from the Ministry of Industry and Information Technology.
Most of those who failed are international carmakers or their joint ventures in the country.
The statistics show that nine out of 10 carmakers needing the most credits were joint ventures, including SAIC GM, Beijing Hyundai, Changan Ford and FAW Toyota.
The need for credits came primarily because the companies did not produce enough new energy vehicles.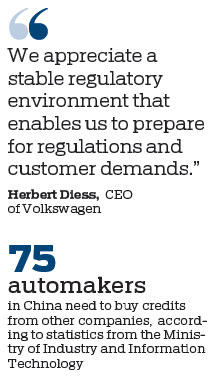 For example, SAIC GM manufactured 5,000 new energy vehicles last year, accounting for just 0.4 percent of cars that rolled off its assembly lines, according to statistics from the Economic Observer newspaper.
According to China's regulations, they have to borrow credits from other subsidiaries within SAIC or GM if they are in a surplus or buy them from carmakers that have amassed extra credits from producing new energy vehicles.
China promulgated a dual-credit policy in 2017, which assesses carmakers in terms of both fuel consumption and new energy vehicle production.
They can amass credits by producing gasoline vehicles with less emissions than the country's standards or by producing electric cars, plug-in hybrids and fuel cell vehicles. Carmakers are allowed to offset deficits in gasoline vehicle credits with those accumulated by their sister companies, those from producing new energy vehicles or those bought from others.
The policy was designed to stimulate carmakers to cut their gasoline fuel consumption while introducing new energy vehicles, which China has been promoting since 2009.
As Chinese carmakers have become eligible for government subsidies, they've moved faster than international automakers. International companies have generally been slow to launch their models, resulting in a deficit of new energy vehicle credits as well.
Statistics from the ministry show that 15 joint ventures, including Ferrari and Mazda, did not amass any credits at all last year.
None of the top 10 carmakers with the most credits were international companies nor were their joint ventures.
Chinese carmakers BYD, SAIC Motor, BJEV, Chery and JAC Motors were among the top credit winners.
BYD was the best-selling new energy vehicle producer in China.
Last year, it sold 227,152 such vehicles, winning 490,000 credits. But international companies must pick up their pace to introduce new energy vehicles.
Credits from such vehicles must account for at least 10 percent of the companies' total sales in 2019 and 12 percent in 2020, according to regulations from the Ministry of Industry and Information Technology.
Xin Guobin, vice-minister of industry and information technology, said the ministry is working on plans addressing the proportion of new energy vehicles' credits in coming years.
International carmakers are positive about the move, believing it will serve as a guideline for them to work out model production plans.
Volkswagen AG CEO Herbert Diess, said, "We appreciate a stable regulatory environment that enables us to prepare for regulations and customer demands".
The carmaker plans to sell at least 400,000 new energy vehicles in China in 2020, and 1.5 million in 2025.
GM is speeding up its pace to introduce such vehicles as well.
It launched the Buick Velite 6 earlier this year, which is the first electric and mass-produced Buick in China. The American automaker said a Chevrolet-branded electric car will join later this year.
The company also said it would launch 10 electric vehicles and plugin hybrids in China between 2016 and 2020, and introduce another 10 by 2023.
lifusheng@chinadaily.com.cn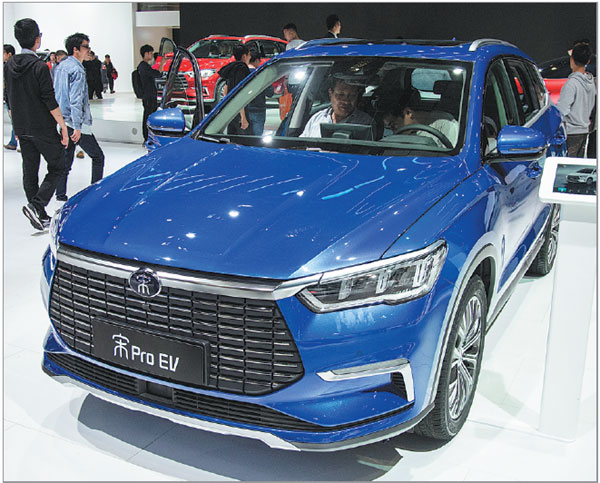 Visitors get to grips with BYD's Song Pro model at the Shanghai auto show in April. Photos provided to China Daily
(China Daily 07/08/2019 page19)
Today's Top News
Editor's picks
Most Viewed