Direct channel opened to link artisans, public
Caution urged as increased demand puts pressure on craft inheritors to deliver goods
E-commerce offers an easy way to tap into the wealth of intangible cultural heritage, according to a consumption report on the ICH-inspired new economy.
The report - recently released by online sales portal VIP's charity arm, market consultancy iResearch, a Guangdong-based traditional craft workshop and a cultural heritage technical center - found that ICH-inspired products are gaining popularity among young consumers.
The combination of traditional crafts and e-commerce channels has brought an upswing in craftsmen's work efficiency and their income. This is helping targeted poverty alleviation, according to the report.
While the trade promotes heritage and spurs growth in local economies, He Jun, a law associate professor at Tsinghua Shenzhen International Graduate School, warned authorities not to pursue "explosive" development, China Intellectual Property News reported.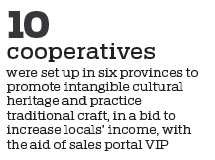 The authorities need to pay attention to traditional skills' unique features, respect the cultural ecosystem where ICH has evolved, and mix heritage protection with cultural and ecological reserves' construction, she noted.
The scholar cited a Tujia and Miao ethnic cultural conservation zone in the Wuling Mountain area in Central China's Hunan province as an example. There, traditional crafts protection is combined with villages' preservation and cultural tourism. This provides space for ICH sustainable development.
At online marketplaces, not many ICH-inspired products were available in the past. But the situation has changed with a series of blockbuster ICH-themed documentaries aired in recent years.
The documentaries, including Masters in the Forbidden City, Handcraft of China and The Great Shokunin, showcased the charm of traditional Chinese craftsmanship and the prowess of ICH inheritors, which aroused public interest.
Female consumers who have received higher education - especially those born in the 1980s - are the major group of spenders at the market. They focus their attention on such products' designs and cultural connotations, the report showed.
The post-1990 generation saw a rapid increase in their consumption of ICH products.
E-commerce creates a platform, linking ICH and interested consumers, He said.
On China's leading retail portal Taobao, nearly 4,000 shops are involved in ICH-related products. These include crafts, daily goods, food and herbs. Some shops demonstrate production processes to popularize heritage skills and increase awareness, China Intellectual Property News reported.
More fashion brands, universities and colleges, online platforms, charity groups and the media are involved in developing ICH-based cultural products, according to the report.
Of them, VIP's charity arm has reaped rewards. Its sales revenue of ICH products between June and November last year was 14.8 times that of the same period in 2017.
The company launched an online channel in May 2017 to promote ICH-related products and help alleviate poverty. To date, it has donated to set up 10 craft cooperatives in six provinces. The charity program saw a more than sevenfold increase in the number of participants at the cooperatives during May 2018 to April 2019, compared with a year earlier.
VIP has also invited designers from 20 fashion brands to visit 13 provincial regions and develop more than 200 types of cultural products relating to 30 ICH items, the report showed.
Accessories, clothes, bags and suitcases are the best-sellers. Together they make up around 82 percent of the ICH-related products on the portal.
Online businesses allow for larger consumer groups and motivate more people to engage in ICH inheritance. Yet the increasing demand will have an effect on traditional craft, which usually has rigid production procedures and requires patience and craftsmanship, the Beijing-based newspaper quoted He as saying.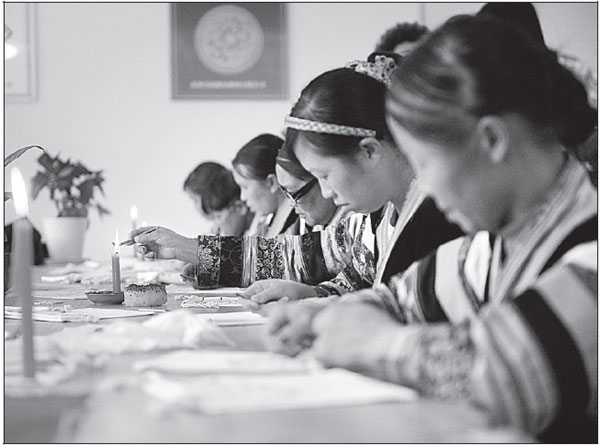 Villagers work on Miao ethnic embroideries at an intangible cultural heritage cooperative in Bijie, Guizhou province in Southwest China. Their creations are sold online via a charity channel set up by e-commerce company VIP. Provided to China Daily
(China Daily 07/04/2019 page17)
Today's Top News
Editor's picks
Most Viewed