New exam questions show growing role of IPR in the classroom
Knowledge of intellectual property rights is playing a more important and ever-growing part in China's social development and basic education, as evidenced by the increasing proportion of IP-related questions in the gaokao, the annual national college entrance examination, in recent years.
In this year's gaokao, which ended earlier in June, the IP sections covered subjects such as Chinese, politics and history in the examination papers in Beijing, Tianjin and Jiangsu province as well as others.
In Jiangsu's examination paper, the test scores relating to IP were higher than in previous years.
The test in Jiangsu's paper asked students to illustrate the role of IP protection in enhancing an open economy and social development, and to explain how to protect IP by optimizing legislation and strictly enforcing the law.
"The repeated inclusion of IP-related questions in the gaokao is a result of the inevitability of history and an urgent need for social development," said Zhang Zhicheng, director of the protection and coordination department at the National Intellectual Property Administration.
Zhang said that publicizing IP protection and related knowledge through the gaokao will help students to form a better understanding of IP protection before they fully enter society. It will also accelerate China's efforts to become an IP powerhouse with a strong capacity for innovation.
The IP system - introduced from the West and deeply rooted in the practices of China's reform and opening-up - has become a basic social security mechanism to boost innovation, he added.
Analyzing the IP test in Jiangsu, Zhang said that IP protection is an inexorable requirement for building a socialist country featuring the rule of law, stimulating innovation across society and promoting an innovation-driven economy.
"We must abide by the law, enforce the law strictly and investigate violations of the law to better protect IP," he added.
Liu Mei, a teacher who is also responsible for IP education at Beijing National Day School, said that this year's IP test in Beijing's gaokao paper was of a very high standard.
"There is no direct answer to the question," Liu said. "The test was difficult for students, as it took IP as a complicated situation that should be solved with knowledge of relevant policies."
Liu Hua, head of the IP research institute at Central China Normal University, said the IP tests in gaokao reflect that a culture of respecting knowledge, upholding innovation, abiding by the law and being honest, has gradually gained wider acceptance in the country.
She said that this year's IP tests in the gaokao papers in Beijing and Jiangsu raised IP awareness to a new level, as they combined IP with the country's development and innovation, compared with the theory tests in last year's national Chinese paper.
"Gaokao is a gauge of China's primary and secondary education, or basic education. It answers the call for the nation's pilot demonstration plan on IP education in primary and secondary schools," she added.
Since 2014, the National Intellectual Property Administration and the Ministry of Education have launched a pilot demonstration plan on IP education in primary and secondary schools across the nation.
To date, the country has designated a total of 165 pilot schools, together with 25 demonstration schools.
wangjinhui@chinadaily.com.cn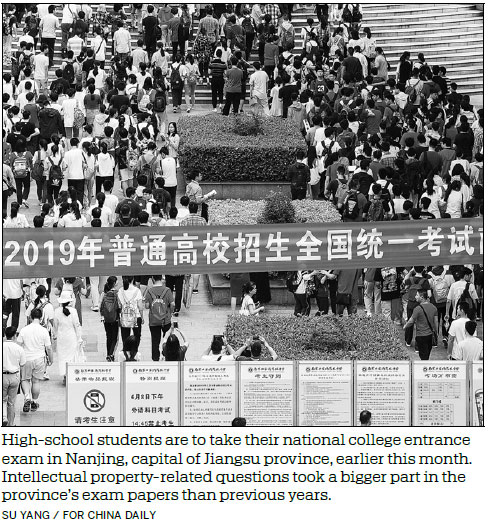 (China Daily 06/20/2019 page17)
Today's Top News
Editor's picks
Most Viewed