Jaguar Land Rover pins hopes on future models after market strife
Amid weaker demands and worries over Brexit, Jaguar Land Rover recorded a loss in the last financial year. But the ongoing transformation program and emerging demands for new models offer hope to the British premium carmaker.
In a 12-month period up to March 31, the company made a pre-tax loss of 358 pounds ($453 million), said the carmaker in a release last week.
The performance was the result of lower full-year sales against the backdrop of a weaker China market. The third-quarter non-cash impairment charge and redundancy costs taken in the fourth quarter contributed to the loss.
However, the carmaker returned to profitability in the last quarter of the financial year. From January to March 31, it generated a pre-tax profits of 269 million pounds.
Jaguar Land Rover is on track to make at least 2.5 billion pounds of investment, working capital and profit improvements by March 2020 through its Charge program.
The company had delivered the first 1.25 billion pounds, with 150 million pounds of cost efficiencies, 400 million pounds of working capital improvements and 700 million pounds of investment savings achieved by March 2019.
"Jaguar Land Rover has been one of the first companies in its sector to address the multiple headwinds simultaneously sweeping the automotive industry," said Chief Executive Ralf Speth. "We are taking concerted action to reduce complexity and to transform our business through cost and cash flow improvements."
Jaguar Land Rover said it maintained a strong balance sheet with 3.8 billion pounds of cash and 1.9 billion pounds in an undrawn credit facility, adding up to 5.7 billion pounds of total liquidity at the financial year-end.
In the past year, the company saw encouraging demand for new models including Jaguar's compact E-PACE sport utility vehicle, the mid-sized SUV Range Rover Velar, the refreshed Range Rover and Range Rover Sport and the all-electric Jaguar I-PACE.
This helped lift unit sales in Britain by 8.4 percent and by 8.1 percent in North America. Jaguar Land Rover outpaced industry growth in both markets.
Land Rover was also the fastest-growing automotive brand in the United States and Jaguar sales rose sharply in Europe.
The performance in those markets helped offset the sales fall in China. Global deliveries totaled 578,915 last year, down 5.8 percent year-on-year.
The market has started to show promising signs in China as well. This is despite an overall downward trend which has raged since July 2018 in the country's automotive market. "Metrics in China have started stabilizing, return on sales have picked up dramatically and at the same time our inventories at the dealers have come down significantly," said P.B. Balaji, CFO at Jaguar Land Rover's parent company Tata Motors at the earnings report press conference. The carmaker said new products will soon follow, including the refreshed Land Rover Discovery Sport and the new Defender.
It has also expanded its Ingenium engine family with a new high-performance, low emissions six-cylinder petrol engine.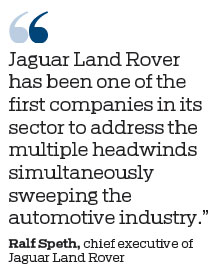 It has also announced plans to assemble electric drive units and battery packs in the United Kingdom and invest in the production of the next generation of flagship Range Rover models.
Work is also underway in the United Kingdom to centralize Jaguar Land Rover's automotive design and product engineering activities. New technology centers have been created in the Republic of Ireland, the UK and Hungary.
These investments are focused on technology innovation, particularly in the company's autonomous, connected and electrified future.
They are developing all-electric, plug-in hybrids and mild hybrid models.
Jaguar Land Rover's electrification capabilities have won global recognition. Its pure electric vehicle the Jaguar I-PACE became the first vehicle to win three World Car awards in a single year.
The model was also named European Car of the Year, German Car of the Year and the China Green Car of the Year 2019, on top of other accolades since it was revealed little more than a year ago.
"Jaguar Land Rover is focused on the future as we overcome the structural and cyclical issues that impacted our results in the past financial year," said Speth. "We will go forward as a transformed company that is leaner and fitter, building on the sustained investment of recent years in new products and the autonomous, connected, electric and shared technologies that will drive future demand," he said.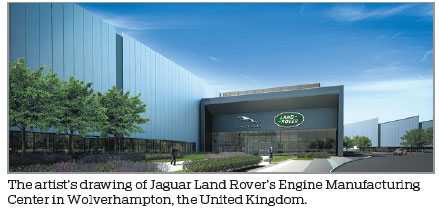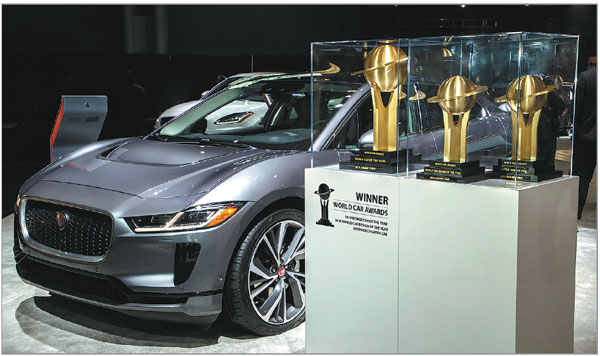 Jaguar I-PACE is the automaker's first vehicle to win three World Car Awards. Photos provided to China Daily
(China Daily 05/27/2019 page19)
Today's Top News
Editor's picks
Most Viewed