Morrison wins shock election victory
Despite forecasts, Australian Labor Party's policies failed to hold usual base
It was an election the Australian Labor Party was expected to win either with a massive landslide or a scrape across the finish line with just enough seats to govern in a majority.
Everything pointed to a Labor win.
Yet as of Sunday with 75 percent of the vote counted, the Liberal-National Coalition led by Prime Minister Scott Morrison was ahead with 74 seats, while Labor had 66, Greens 1 and independents 5. Seventy-six seats are needed to form a majority government.
The results go against three years of opinion polls which have consistently put Labor ahead, which made Morrison suggest a "miracle" was needed.
Both the Liberals and National parties were deeply divided especially when it came to issues like climate change.
For its part Labor was offering a united party with a radical reform program for the future with health, education and climate change at the forefront.
Analysts said several factors impacted on Labor, leading to its loss.
Perhaps one of the most telling was the voter backlash against plans to scrap capital gains on investment property and ending the dividend-imputation tax on shares which would have impacted on retiree savings.
In Queensland, where Labor saw its support collapse, the party's loss came down to the fate of a coal mine and its promise to provide jobs and security to thousands of workers. True, thousands would be employed creating the infrastructure but, in the end, the mine itself would be fully automated and barely employ anyone.
When Labor could not commit to the project, the workers turned their collective backs on what had been the workers' party.
For his part Morrison was relentless in his message: Vote Labor and rents and taxes will go up and the economy will fail. Labor leader Bill Shorten was portrayed as untrustworthy and slippery, a man who had lost touch with ordinary Australians.
Stewart Jackson, a lecturer in the department of government and international relations at the University of Sydney, said: "The polls got it horribly wrong."
"Here you had a party (Labor) with a coherent set of policies and the other side just pulled them down," he told China Daily.
"When you start talking about changes to tax and retirement savings people start to feel uncomfortable, so they stick with what they know... at least they feel secure."
In the end, despite the polls, people decided to stay with what they knew: Morrison, the former advertising salesman who took over after Malcolm Turnbull was dumped by the party nine months ago.
The result also left many wondering how the opinion polls got it so wrong.
When polling booths opened at 8 am on April 18, opinion polls had Labor well ahead of the coalition. Within two hours of the booths closing at 6 pm, it was apparent Morrison had won. Whether he will govern with a majority has yet to be determined as around 4 million of the 16 million votes cast still have to be counted.
Queensland billionaire Clive Palmer, who spent an estimated A $80 million ($55 million) in an advertising blitz across the country, putting up candidates in both the senate and house of representatives yet his Australia United Party fail to secure any seats.
The election saw former prime minister Tony Abbott losing his seat, which he held for 25 years, to an independent.
Shorten, a former union boss, told supporters in his concession speech on Saturday he would stay in parliament, but he will stand down from the leadership. His loyal deputy leader, Tanya Plibersek, and popular MP Anthony Albanese have said they will seek the leadership.
Albanese said on Saturday that Labor exists "to change the power balance in society, whether that be economic power, political power or social power - that is our task and it is one that I will continue to pursue."
Jackson, the university lecturer, said Clive Palmer and his United Australia Party along with rightwing Pauline Hanson's One Nation Party collected the protest vote, pulling from Labor's traditional voters.
Jill Sheppard of the Australian Centre for Applied Social Research Methods at the Australian National University in Canberra said one of the problems is that Australians have tended to rely too much on national opinion polls rather than what matters "seat by seat".
"I think the big message from this election is the states are very different from each other. This is going to be the story of the future," she said.
"The surprise was One Nation which polled up to 20 percent in some Queensland and northern New South Wales seats," she said.
"One Nation has taken votes from Labor. As for the Greens they performed above expectations."
karlwilson@chinadailyapac.com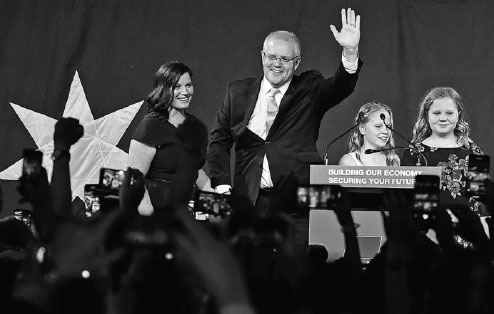 Australia's Prime Minister Scott Morrison waves after his party won the federal election, at the Federal Liberal Reception at the Sofitel-Wentworth hotel in Sydney on Saturday.Aap/reuters
(China Daily 05/20/2019 page11)
Today's Top News
Editor's picks
Most Viewed