AI used to translate patent documents
Intellectual Property Publishing House has launched an artificial intelligence translation system for patent documents, claiming more than 90 percent accuracy.
The system can translate Chinese into English, Japanese and German and vice versa.
Its accuracy in two-way translation between Chinese and Japanese has reached 95 percent, far more than the current industry average, and the rest has topped 90 percent, said Li Hui, marketing director of the company.
The high accuracy of translation is the system's core competitiveness, he noted.
When first put into trial operation last year, the system's accuracy was 82 percent, Li said. "So far, we have improved accuracy to more than 90 percent, ranking among the best in the industry."
The AI-powered system adopts natural language processing algorithms and a computational model to process and optimize specific terminology and sentence structures in patent documents.
Zhang Xiaofei, deputy head of the Machine Translation Institute on Scientific Literature at the publishing house, said it has taken more than a decade for his team to develop the system.
"Increasing the accuracy is the most difficult task for us in the development process," Zhang said.
Authorized by the China National Intellectual Property Administration, the company publishes a weekly compilation of Chinese patents and has accumulated rich resources in patent documentation, which is conducive for the team to conduct data analysis, he said.
"We also have a huge database of global patents, thanks to China's collaboration with other countries in patent review."
Huang Dehai, general manager of Qingyihua IP agency, said the system is crucial to third-party agencies.
"Last year, our agency tried the system and it just took five seconds to translate a 10,000-word Japanese patent document, and of course we also got the result we wanted," he said.
Zhu Mingang, chairman of the publishing house, said that patent documents record more than 90 percent of a country's technology and innovation.
"Facing language barriers, developing and promoting machine translators is of great significance," he said.
"With the rapid development of China's IP, the number of international patent applications is increasing."
Using machines to translate patent documents represents a huge market because it can help scientific researchers and patent reviewers to save time and money.
With burgeoning AI technology, the relationship between machine translation and human translation also raised discussion among industry insiders during the system's launch conference.
With the background of AI, it is worth investing capital and human resources to develop patent machine translators in a bid to increase translation efficiency, shorten the review cycle and thus aid in research and innovation, Zhu said.
However, machine translation can only replace part, not all, of human work, he said.
"Proofreaders and writers of patent documents should not be replaced by machines, because of the stringent requirements for filing a patent."
Qingyihua IP agency's Huang said that about 90 percent of the most advanced technologies exist in patent documents.
"Machines can't supplant humans," Huang said. "A patent document is all about facts, which requires high accuracy, so it is feasible to translate it with machines."
He Enpei, chairman of Transn, an internet-based language services provider, said that machine translation has played an important role in cross-language knowledge dissemination and market promotion.
Language is not deducible, and it works when combined with human brains, He said.
"Machines can only beat us at easy tasks," he said. "But they always serve humans."
liangkaiyan@chinadaily.com.cn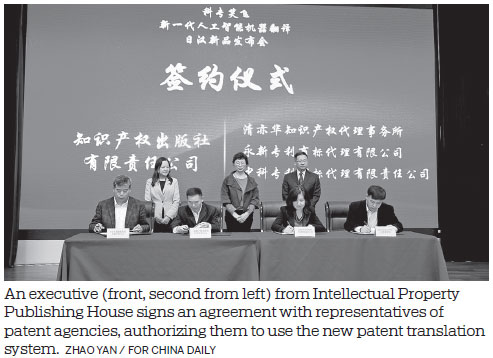 (China Daily 05/09/2019 page17)
Today's Top News
Editor's picks
Most Viewed