How Chinese investment revived one city
Wanhua purchase of Hungarian chemical plant saved company, boosted area's economic development
BUDAPEST - "Tremendous changes have taken place in this city," said a retired worker who was enjoying the sun in a park in Hungary's northeastern city of Kazincbarcika.
"Roads have been renovated, bike lanes have been built, entertainment facilities for both adults and children have been established, and the city has taken on an artistic look with more flowers and trees," the worker, who prefers to be called as "Laszlo", told Xinhua.
The city has become more and more beautiful thanks to investments by Wanhua Chemical Group, a Chinese company that has not only given the city in Borsod-Abauj-Zemplen County a rebirth, but also "miraculously saved" the Kazincbarcika-based BorsodChem, the largest chemical company in Hungary.
BorsodChem, founded in 1949, is a leading European isocyanate producer, supplying raw material to a wide range of industries like automobiles, construction, clothing, footwear, electronics and pharmaceuticals.
One in every 10 people living in Kazincbarcika, a city of about 30,000, works at BorsodChem. Young people study chemicals in hopes of landing a job with the company, the only major employer at home.
When the 2008 international financial crisis hit, the company, then owned by European investors Permira and Vienna Capital Partners, ran into difficulty due to a seized-up global market and the fact that its owners - two financial firms - had little to offer in terms of technological innovation. The whole city was thrown into panic.
At that difficult moment came Wanhua, which started negotiations to buy BorsodChem's mezzanine debt in 2009 and two years later acquired full control of the company, then laden with a debt of some 150 million euros ($169.69 million).
A chemicals giant based in East China's Shandong province, Wanhua restructured BorsodChem, bringing in advanced techniques and new ways of management.
Most importantly, it cut no jobs.
"If it were not for Wanhua, several thousands of families would face the crisis of unemployment. Just the thought of it is terrifying," said Gabor Kristof, who has worked in BorsodChem for about 14 years.
"I was very concerned when Wanhua just purchased Borsod-Chem. On the one hand, I was afraid that I might be fired. On the other hand, I was worried that I might lose my job in the future due to poor management by the Chinese company," said Csaba Kohaja, chief operation officer of BorsodChem.
Kohaja said facts have proven that his concern was misplaced. BorsodChem was back in the black in 2014. In 2017, it had 13.1 billion yuan ($1.95 billion) in revenues, with a net profit of 3.02 billion yuan, becoming one of the top 100 companies in Central and Eastern Europe.
BorsodChem's revival has not only benefited its employees, but also brought concrete benefits to the local government and residents, helping improve people's livelihood and boosting the city's economic development.
Since the Wanhua takeover, BorsodChem has paid more than 120 million euros in taxes. In 2017, the company was awarded by the Hungarian government for an outstanding performance in fulfilling its social responsibilities.
With a stronger BorsodChem, Kohaja no longer needs to worry about losing his job. In fact, he's been promoted.
"I have full confidence," Kohaja said, "and I look forward to a brighter future with the company."
Xinhua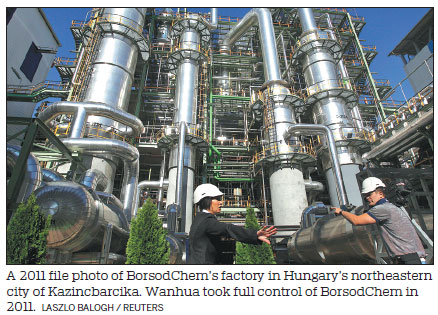 A bird's-view of the China-Hungary BorsodChem economic and trade cooperation industrial park in Hungary. Provided to China Daily
(China Daily 04/27/2019 page29)
Today's Top News
Editor's picks
Most Viewed