Culture deepens ties between countries
Artworks and performances go on tour, delighting audiences, ahead of 70th anniversary of diplomatic relations
Flourishing cultural exchanges have been held in China and Hungary to promote mutual understanding between the two nations in recent years.
The Beijing Film and TV International Show lifted the curtain in Budapest, Hungary, on April 23. The show kicked off with performances prepared by Hungarian dancers and pop singers, before showing trailers of Chinese productions.
"Within the framework of the Belt and Road Initiative, more and more Chinese film and TV productions have become accessible for Hungarians," said Wang Wei, director of planning and development for the Beijing Municipal Radio and Television Bureau.
"This kind of cultural exchange can facilitate interpersonal bonds between Hungarian and Chinese and will create a solid base for further cooperation between the two countries," he stressed.
Maria Pap, an official from the Hungarian National Tourist Office, said: "Budapest is a very important tourist attraction and destination here in Central Europe. I am delighted to see more and more Chinese tourists coming to Hungary."
It was one of many events to demonstrate Chinese culture and China's unique landscapes to Hungarian people in recent times.
Organized by Beijing's culture and tourism bureau, a promotional event named Charming Beijing was held in Budapest in March. Representatives from the bureau hosted in-depth discussions with local tourism businesses aiming to further expand partnerships. Forty images of historical landmarks in Beijing including the Forbidden City and the Great Wall were displayed.
Organized by the Hungarian-Chinese Cultural Association, a three-day Chinese Spring Festival celebration took place in Hungary in January with the support of the Chinese embassy in Hungary.
The festival celebration had a panda exhibition, a cultural heritage exhibition that included painting and calligraphy, a tea ceremony and tea tasting, and a demonstration of traditional Chinese medicine.
A special zodiac stamp issued in honor of the 2019 Chinese Year of the Pig was presented during the event.
On the red stamp, a chubby pig can be seen covered in a flower motif, under a sign saying "Year of Pig 2019".
It is the sixth edition of a Hungarian stamp commemorating the Chinese Spring Festival since the first was issued in 2014, the Year of Horse.
Dancers, singers and musicians from Northwest China's Gansu province staged a performance entitled Magical Silk Road. It was inspired by the famous Dunhuang frescoes, which attracted more than 600 people in June 2018 in Hungary.
Hungary, known for its abundant cultural and natural resources, and as the home of poet Sandor Petofi, was also keen to present its culture to Chinese people.
A Hungarian contemporary art exhibition in Chengdu, Sichuan province, which ran from March 29 to April 20, presented the work of six Hungarian artists.
The Modern Art Exhibition of Hungary, which took place at the National Art Museum of China last year, brought together dozens of paintings and sculptures. They look back on the dynamic and various schools of Hungarian fine art over the past century. A total of 99 paintings and 24 sculptures were on display.
Looking ahead, China is willing to maintain high-level exchanges with Hungary, consolidate political mutual trust, and push bilateral practical cooperation forward, according to one of China's State leaders.
China will support its citizens traveling to Hungary and is willing to expand people-to-people and cultural exchanges to further consolidate public support for stronger bilateral relations.
The state leader of Hungary said China and Hungary will celebrate the 70th anniversary of their diplomatic ties this year. Hungary is willing to continue to deepen practical cooperation with China, accelerate the use of the Hungarian section of the Belgrade-Budapest railway, and enhance cooperation in areas including agriculture and tourism.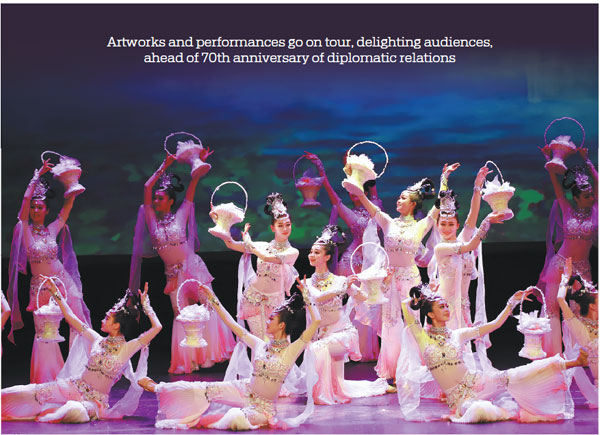 Dancers from the Chinese Gansu Dance Theater perform in a dance drama in the Ram Colosseum cultural center in Budapest in 2018. Xinhua

Left: The Modern Art Exhibition of Hungary takes place at the National Art Museum of China in 2018. Jiang Dong / China Daily Right: Special zodiac stamps have been issued in Hungary for six consecutive years since 2014 to celebrate the Chinese Spring Festival. Xinhua
(China Daily 04/27/2019 page28)
Today's Top News
Editor's picks
Most Viewed