Container services company keeps ports running steadily
An active private sector partner of governments in the privatization of ports, International Container Terminal Services Inc is charged with helping economies to expand by ensuring that ports - key conduits in economic growth - provide the best service possible.
With 32 ports in 19 countries and regions across the globe, ICTSI helps to move cargo via gateway ports. It operates not only through its own expertise but through strategic partnerships with leading global providers of engineering services, port equipment and technology.
"With our current presence in major gateway ports and important trade hubs, several of which are within China's Belt and Road routes, ICTSI's diverse portfolio requires business partners that are well-positioned to deliver synergies to our operation," said ICTSI Global Corporate Head Christian R. Gonzalez.
Among ICTSI's long-standing and trusted providers are Chinese companies, including China Harbour Engineering, China Railway Engineering Corp and Shanghai Zhenhua Heavy Industries.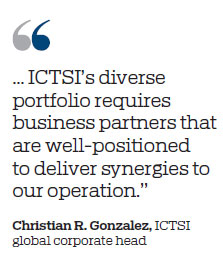 The partner companies provide engineering services and equipment to a number of ICTSI terminals worldwide. China Harbour Engineering carries out port infrastructure projects at the Manila International Container Terminal and Cavite Gateway Terminal in the Philippines, Puerto Cortes in Honduras and Contecon Manzanillo in Mexico. China Railway Engineering provides services in Matadi, Democratic Republic of Congo, and Shanghai Zhenhua Heavy Industries supplies port equipment at various ICTSI ports. Recently, Shanghai Zhenhua delivered quay cranes in Manila and Manzanillo, as well as Papua New Guinea's new rubber-tired gantries in Lae. Moreover, several host countries of ICTSI terminals do brisk trade with China in light of the Belt and Road Initiative.
ICTSI's flagship operation, the Manila International Container Terminal, serves at the heart of Philippine trade, with China as the Philippines' top trading partner. The MICT links to the rest of the archipelago and the region's most important hubs serving the Belt and Road's expansion in the Asia Pacific.
In China, ICTSI's Yantai International Container Terminal in Shandong takes advantage of its unique position as one of the key harbor cities on the Silk Road, with excellent road and rail networks linking Shandong province to the rest of the world.
With a favorable strategic location at the continental crossroads, Georgia's Batumi International Container Terminal, a short deviation from the main Silk Road, provides increasingly important access to the Black Sea and Caucasus region, bridging the Eastern and Western markets.
Meanwhile, ICTSI's latest concession in Port Sudan, the Africa Gateway Terminal, sits directly at the busy Red Sea trade routes and along the Silk Road - enjoying unrivaled access to Sudan and many landlocked north and central African nations.
Headquartered and established in 1988 in Manila, the Philippines, ICTSI is in the business of port operations, management and development. ICTSI's portfolio of terminals and projects spans developed and emerging market economies in the Asia Pacific, America, Europe, Middle East and Africa. ICTSI has received global acclaim for its public-private partnerships with governments divesting of their port assets to the private sector.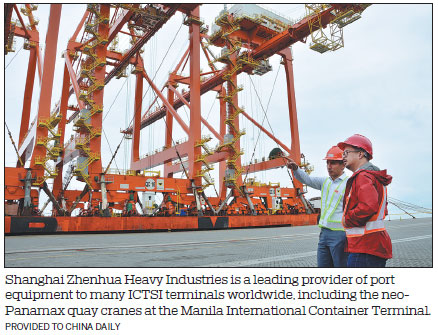 (China Daily 04/27/2019 page25)
Today's Top News
Editor's picks
Most Viewed