Chinese training boosts Filipinos' careers
Laborers who helped build drug rehabilitation center are taught valuable skills while at work
Olener Sacal and Given Lanugan said they were "mere construction laborers" when they were enrolled to build a Chinese-funded drug rehabilitation center in San Francisco, southern Philippines, in February 2018.
However, after a year, they have learned new skills from their Chinese mentors. Both Sacal and Lanugan said they were promoted to carpentry and masonry respectively.
"I learned a lot from my Chinese supervisor who taught me how to do plastering, piling and layouting the proper way," Lanugan, 26, told Xinhua.
He said his Chinese supervisor cannot speak English but demonstrated to him the craft of masonry repeatedly. "He would literally show me how to do it by doing it himself," he added.
Sacal, 32, said his Chinese mentor taught him carpentry skills including how to cut, measure and install beams and the right way of erecting posts.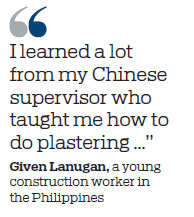 "My supervisor was very patient in imparting his knowledge to us. He cannot speak the English language so he uses sign language. But to make sure that we understand his instructions, he often demonstrated how to do things properly," Sacal told Xinhua.
Lanugan and Sacal were among more than 400 Filipino workers who built the drug treatment and rehabilitation center in San Francisco of Agusan del Sur province, a landlocked area in the south, or Mindanao.
The 6,750-square-meter facility that sits on a three-hectare lot is the second rehabilitation project funded by China to help the Philippines in its fight against illegal drugs.
A similar Chinese-funded facility in Sarangani province, Mindanao, was handed over to the government in December last year.
Amid warm relations between Beijing and Manila, 50 large Chinese companies are doing business in the Philippines, providing jobs to some 14,000 Filipinos. Meanwhile, 1,300 skilled Chinese workers are here to help train local employees, according to the Chinese Enterprises Philippine Association.
One of these companies is the China State Construction Engineering Corporation, which built the drug rehabilitation center in Agusan del Sur. The facility has a 150-bed capacity, an administration office, clinic, multipurpose covered court, dormitories and a house for visitors.
Liu Wei, general manager of CSCEC Philippine branch, said his company hired more than 400 local workers and administrative employees to ensure that residents in the province benefit from the project. He said only 35 Chinese employees were involved in the project.
Liu said around 540 million pesos (around $10.4 million) worth of Philippine goods were purchased and used in the project, including construction materials, machinery, furniture and medical equipment.
Philippine President Rodrigo Duterte vowed to end the drug menace in the country when he assumed the presidency on June 30, 2016.
In October 2016, Duterte visited China and both sides reached an agreement to build drug rehabilitation centers in the Philippines.
The two new drug rehabilitation centers do not only accommodate local drug dependency personnel. They have helped hundreds of local workers launch their careers in construction.
Edward Plaza, governor of Agusan del Sur province, said the construction of the drug rehabilitation center in Mindanao provided jobs to Filipinos, albeit temporarily. But because of the experience and the skills the workers learned from the Chinese company and colleagues, these workers can easily find new jobs in the construction industry, he said.
"They are going to be better skilled because they are trained by our Chinese engineers. I believe they will be in demand from our local contractors," Plaza told Xinhua.
Armed with new skills, both Lanugan and Sacal said they now have more chances of getting a job in the construction industry. "We have more opportunities now," Sacal said.
Xinhua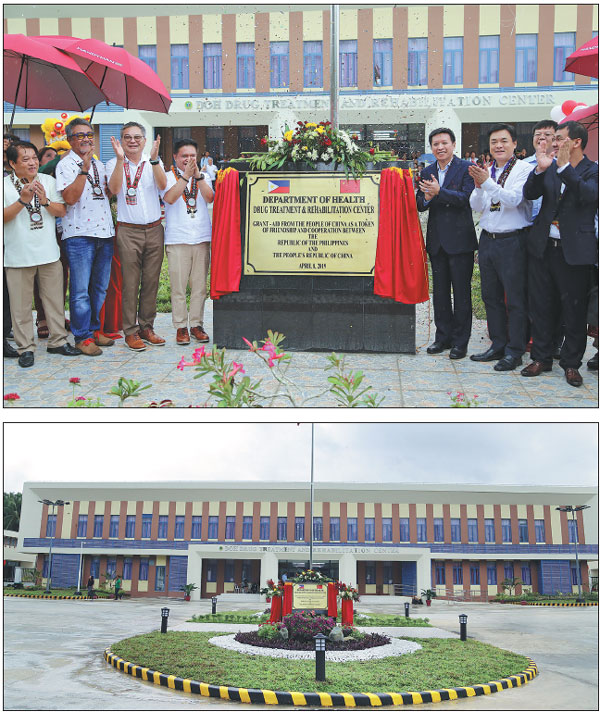 Above and below: A drug rehabilitation center funded by China holds a handover ceremony in southern Philippines in early April. Yuan Mengchen / Xinhua
(China Daily 04/27/2019 page25)
Today's Top News
Editor's picks
Most Viewed