Trade partners to play crucial role in Belt, Road development
Fast-paced growth, industrialization, skilled workforce strengthen ties between nations
Turkey's strategic location straddling Asia and Europe, a fast-paced growth in industrialization, skilled workforce and diversified commercial ties with Chinese companies will push the country to become a gateway and trade center for the development of the Belt and Road Initiative in the coming years.
The strong growth momentum is boosted by companies from both countries giving full play to their advantages in production capacity and technology collaboration, and tapping into commercial potential in services and new energy industries under the tangible development of the BRI, said Lu Ming, vice-dean at the Academy of China Council for the Promotion of International Trade.
He said that though both the Chinese and Turkish economies have been affected by declining global demand for goods and services over the past two years, the degree of interdependence between the two remains stable in bilateral cross-industry trade.
The trade volume between China and Turkey amounted to $21.55 billion in 2018, while both countries saw greater business cooperation in fields such as infrastructure, energy, services and agriculture, data from the Ministry of Commerce show.
Cui Wei, the Chinese consul general in Istanbul, added that bilateral trade volume has hit $100 billion over the past five years since the two countries have been cooperating under the BRI.
China mainly ships construction machinery, manufacturing equipment, steel, electronics and household appliances to Turkey.
In addition to minerals, precious and base metals, chemical and agricultural products, Turkey's exports to China also include plastics, rubber, furniture, toys, transportation equipment and materials for textiles and garments.
To further enrich bilateral trade, China launched a freight train service from Lianyungang in East China's Jiangsu province to Istanbul in November 2018.
The freight train departing from the Chinese city passes through Kazakhstan, Azerbaijan and Georgia, to finally arrive at Istanbul, further enhancing the logistics and transportation network linking Asia and Europe.
According to its Chinese operator, containers on the first train carried geographic positioning systems, making it possible to track the train in real time during the whole journey.
Freight trains depart for Turkey on 8th, 18th and 28th of each month.
As an important economy related to the BRI and a founding member of the Asian Infrastructure Investment Bank, Turkey can cooperate with China in various fields within the framework of the initiative, said Lyu Xinhua, chairman of the Council for Promoting South-South Cooperation, a Chinese nonprofit organization.
He said China and Turkey have been accelerating the development of e-commerce platforms, smart cities, customs processing, consolidating goods trade and expanding services trade over the past three years.
Lyu said he expects more Turkish companies to join the annual China International Import Expo in Shanghai and use other bilateral channels to market their products in the country so as to further narrow the trade deficit, citing China's growing middle-income earners as a result of the country's reform and opening-up over the past four decades.
Deng Li, the Chinese ambassador to Turkey, expects Turkish exports to China as well as Chinese investment and visitors to Turkey to double by 2021, the year marking the 50th anniversary of the establishment of diplomatic relations between the two countries.
In Deng's view, if some technical issues are smoothed out, more Turkish products such as cherries and honey could be exported to China in large quantities.
"The Chinese market is almost unlimited for many Turkish products," he said, urging Turkish businesses to find the right partners and devote more efforts to market their products in China.
Murat Kolbasi, chairman of the Turkey-China Business Council under the Foreign Economic Relations Board of Turkey, said Turkish businesspeople have long been seeking to increase their export volume to China.
"We are aware of the challenges, but we desire to raise our cooperation and be in the Chinese market to further boost trade figures," he said.
In addition to growing trade activities, Ismail Gultekin, deputy governor of Istanbul, said Turkish authorities have also been doing their best to remove obstacles to foreign investment in the country.
zhongnan@chinadaily.com.cn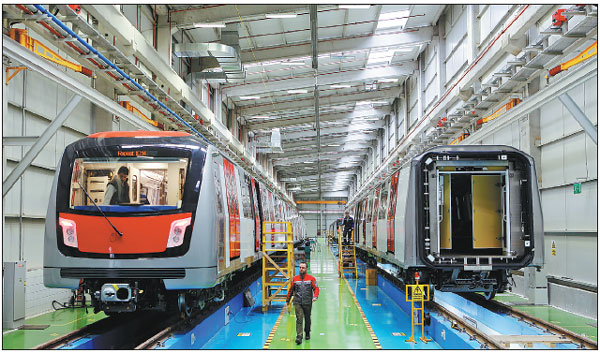 Employees work on a rail stock production line at a Chinese-invested company in Ankara, Turkey. Qin Yanyang / Xinhua 
(China Daily 04/26/2019 page34)
Today's Top News
Editor's picks
Most Viewed