Investing in Turkey's growing economy: A wise option for China, others
The following story was written by Arda Ermut, president of the Presidency of the Republic of Turkey Investment Office.
Turkey and China have sweeping economic and trade relations and the strategic location of Turkey offers lucrative opportunities for Chinese companies.
Today, with close relationships between the two countries, more than 1,000 Chinese companies are doing business in Turkey, including Industrial and Commercial Bank of China, Bank of China, China Merchants Group, China Investment Corp, shipping group COSCO and telecommunication giants Huawei and ZTE.
Turkey has plenty of advantages for international investors, including a diversified economy that records high growth rates, a young population, an entrepreneurial business ecosystem supported by reforms, and a strategic location with lucrative export opportunities. Those advantages provide ample opportunity for investors looking to step up their direct commitments abroad as well as to grow their business operations both in Turkey and its surrounding regions.
Turkey is the 13th largest economy in the world, according to GDP at purchasing power parity in 2017, and has grown robustly with an average annual growth rate of 5.5 percent from 2003 to 2018.
The growth rate earned Turkey the distinction of being the fastest growing economy in Europe and one of the fastest in the world.
Turkey's favorable demographic structure has been a key driver of its growth.
With half of the country's population under the age of 32, Turkey stands out as the country with the largest youth population in Europe.
The young population translates into a larger availability of skilled labor force with an industrious working culture and cost-competitive edge, yet another reason to invest in Turkey.
The economic growth in the last decade has paved the way for the emergence of a sizable middle class with increasing purchasing power.
The domestic market is further supported by emerging urban centers across Turkey. The number of such urban centers has reached 23, each with a population surpassing 1 million.
From the perspective of logistics and cultural mix, Turkey is a prime location to host headquarters for many multinational companies, thanks to its excellent connectivity, unique setting and strong bonds with its neighbors.
Companies like Siemens, Nestle and Deutsche Bank have been operating in Turkey for more than 100 years. An increasing number of companies from across the world, looking for expansion into new markets, are finding a second home in Turkey to manufacture, as well as design and engineer, for a combined market of 1.6 billion people within a four-hour flight radius.
Prominent Chinese companies have also invested in various sectors in Turkey. In the banking sector, for example, two Chinese giant banks - ICBC and BOC - operate in Turkey with full banking licenses. Chinese telecoms giants Huawei and ZTE also have investments in Turkey.
Turkey is working together with China on the Belt and Road Initiative, as well.
The project will surely boost Turkey's stance within the region as an important destination, hub, and port that can easily distribute goods to various destinations in the Middle East, Europe, and North Africa thanks to its proximity to each of them.
The new Istanbul Airport, which will eventually be one of the largest airports in the world, opened its first phase in October 2018.
Istanbul Airport and other infrastructure investments such as the Marmaray, the Eurasia Tunnel, the Osmangazi Bridge and the Yavuz Sultan Selim Bridge will strengthen Turkey's central position as a global hub.
Investments in Turkey are strongly protected by both domestic and international laws.
On top of the Foreign Direct Investment Law, enshrining equal treatment for foreign and domestic investors, foreign investments in Turkey are also protected by more than 75 bilateral investment promotion and protection treaties. In addition, Turkey has also signed bilateral tax treaties with around 80 countries to prevent double-taxation.
Turkey has become a country that has piqued the interest of global investors thanks to its economic stability and structural reforms over the last decade and a half. Even still, there is enormous untapped potential for international companies looking to invest in Turkey.
Energy investments
Turkey's installed capacity in the energy sector exceeds 87 gigawatts thanks to a threefold increase over the past decade and a half.
The country has recorded an average annual growth rate of 5.5 percent in energy demand since 2002. Rising energy demand is expected to continue, and Turkey has ambitious targets in energy regarding supply security, increasing shares of renewables and local resources, and providing more predictable market conditions.
In 2018, the Turkish Stream Project's two pipeline projects - each 939 kilometers long - were launched. The projects, slated to begin at the end of 2019, will deliver Russian natural gas across the Black Sea to Turkey and on to Europe. It will account for 35 percent of Turkey's natural gas consumption.
Also, in 2018, Socar, the Azerbaijan state oil company, commissioned the Star Refinery in Turkey, which is the largest single-place investment in the country.
More than 1,000 people will be employed in the refinery valued at $6 billion and the project is expected to meet more than 25 percent of Turkey's refined petroleum needs.
In June 2018, a third natural gas pipeline project, the Trans-Anatolian Natural Gas Pipeline, also known as TANAP, was commissioned in Eskisehir Province of Turkey.
TANAP will run from the border between Turkey and Georgia to that with Greece. The 1,850 km pipeline will supply natural gas to both Turkey and Europe.
Turkey is also planning to increase its production of renewable energy, both in solar and wind.
As part of its ambitious target to increase clean energy production, Turkey made 1 GW solar and 1 GW wind renewable energy zone tenders in 2017. The new energy zone tenders are models to incentivize large investments and local manufacturing of renewable energy equipment.
Driving automotive exports
With more than 1 million vehicles rolled out a year, Turkey - the 14th largest auto producer in the world and the largest vehicle source to the European Union - plays an active role in the global automotive sector.
Turkey's geographic proximity to Europe, Asia and the Middle East and North Africa, gives the country a strong competitive advantage in logistics and provides lucrative export opportunities for multinational companies in the automotive sector.
A look at Turkey's yearly export volume of $168.1 billion in 2018 shows the automotive sector headed the list accounting for $31.6 billion.
Thanks to the export-oriented nature of the Turkish automotive industry, automotive giants are almost always on the top 10 lists of corporate exporters in Turkey. In 2018, four of the top five exporters in the country were automotive companies.
In 2018, a joint-venture consisting of five Turkish conglomerates along with the Union of Chambers and Commodity Exchanges of Turkey was established to manufacture the first domestically-produced car.
The car will run on the roads by 2022 and is expected to contribute 50 billion euros ($56.58 billion) to the country's GDP and 7 billion euros to current deficit, while providing employment to 20,000 people.
About Invest in Turkey
Presidency of the Republic of Turkey Investment Office, namely Invest in Turkey, is the official organization for promoting Turkey's investment opportunities to the global business community and for providing assistance to investors before, during and after their entry into Turkey.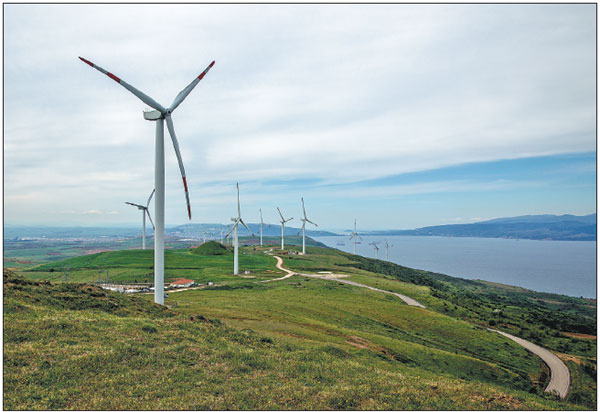 With the capacity to produce up to 8 gigawatts of wind energy, Turkey ranks sixth among European Union countries in 2018. Provided to China Daily 
(China Daily 04/26/2019 page34)
Today's Top News
Editor's picks
Most Viewed