China, Saudi Arabia strengthen economic ties
Oil, infrastructure and tech among industries set to benefit from strong partnerships between nations' companies
China and Saudi Arabia will have stronger trade relations and economic cooperation in 2019, said commerce officials and business leaders from both countries.
The optimistic outlook comes thanks to the two countries' shared economic interests and after both sides also reached deep consensus on the development of the Belt and Road Initiative.
While oil trade lies at the heart of business ties between China and Saudi Arabia, the middle eastern nation's desire to upgrade its infrastructure has brought more opportunities for Chinese project contractors and manufacturers, said Yu Jianlong, secretary-general of Beijing-based China Chamber of International Commerce.
The infrastructure projects Saudi Arabia hopes to improve include roads, airports, oil tankers, offshore engineering facilities and container ports.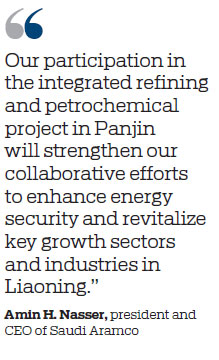 Saudi companies also want to jointly explore third-party markets with China to further develop BRI cooperation, Yu said.
He added the recent visit by Saudi Arabia's Crown Prince Mohammed bin Salman to China represents a positive step forward for the entire Middle East region.
China-Saudi Arabia trade jumped 32 percent year-on-year to $61.4 billion in 2018.
China, in the meantime, remained the Arabic country's biggest trade partner by volume, according to data from the Ministry of Commerce in China.
China mainly ships construction machinery, vessels, manufacturing equipment, steel, electronic products, textiles, garments and household appliances to Saudi Arabia. Chinese-made passenger vehicles and trucks have also become popular in the region.
In addition to crude oil, petrochemicals, fertilizer and other products, Saudi Arabia also exports to China metallic ore, aquatic products, marble, olive oil and sesame.
The potential for trade between China and countries involved in the BRI is continually being developed, said Chen Wenling, chief economist at the China Center for International Economic Exchanges.
New trade relations will serve as the engine for China's economic and technological development, especially in areas like 5G, autonomous driving and smart city development. Chen said these technologies are developing rapidly in China.
Pan-Asia PET Resin (Guangzhou), one of the biggest polyethylene terephthalate, or PET, chip producers in terms of annual production volume in Guangdong province, secured its $3.2 billion petrochemical and chemical fiber project in Saudi Arabia at the end of last year. These moves came as the Chinese company rapidly moved forward in its preparation for the project.
This phase is expected to be finalized in the third quarter of 2020.
Located in the Jazan City for Primary and Downstream Industries, a newly developed industrial zone in the southwestern corner of Saudi Arabia, the project will be developed in three phases.
When all three phases come online, the project will have a production capacity of 2.5 million metric tons per annum of purified terephthalic acid, 1 million mtpa of PET, 200,000 mtpa of polybutylene terephthalate and 200 kilotons per annum of polyester film.
Lin Wencai, general manager of Pan-Asia Saudi, said Saudi Arabia has one of the largest proven oil reserves in the world.
The size of their oil reserves gives the company a significant energy cost savings advantage.
The JCPDI is located at the intersection of Europe, Asia and Africa, and has transportation avenues from the Red Sea to the Suez Canal.
Those avenues allow Pan-Asia to better serve the European, North African and Central Asian markets, said Lin. Beyond the energy sector, Chinese tech giant Huawei Technologies opened its first flagship store in Saudi Arabia.
By partnering with the Saudi government, Huawei is also working to develop local talent through its training initiatives, which aim to train 10,000 Saudi staff members, both male and female, by 2020.
In addition to Chinese companies from the private sector, State-owned enterprises such as Sinochem Group and China Communications Construction have also diversified their operation strategies in Saudi Arabia and other markets in the Middle East.
The companies have transformed from goods and equipment suppliers to full-fledged construction project providers and investors, said Peng Huagang, secretary-general of the State-owned Assets Supervision and Administration Commission. Supported by technology and capital, Saudi companies have been known to invest in China's fast-growing energy sector to meet its surging demand for both refined and crude oil, as well as new refining technologies.
Saudi Arabian Oil, or Saudi Aramco, one of the world's top oil exporters, formalized plans to build a 300,000-barrel-per-day refining and petrochemical complex with Chinese partners in Panjin, Northeast China's Liaoning province, in February.
Amin H. Nasser, president and CEO of Saudi Aramco, said the new complex is a clear demonstration of Saudi Aramco's strategy to move beyond a buyer-seller relationship to one that makes significant investments to contribute to China's economic growth and development.
"Our participation in the integrated refining and petrochemical project in Panjin will strengthen our collaborative efforts to enhance energy security and revitalize key growth sectors and industries in Liaoning," Nasser said.
"It will also help us meet rising demand for products and goods in China's Northeast region."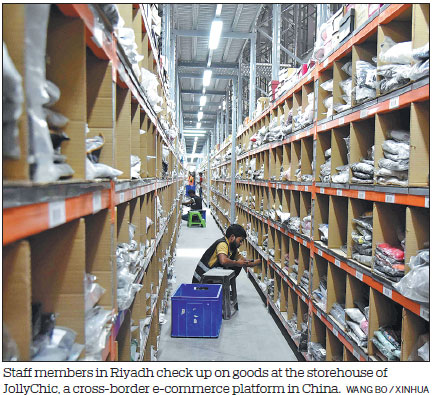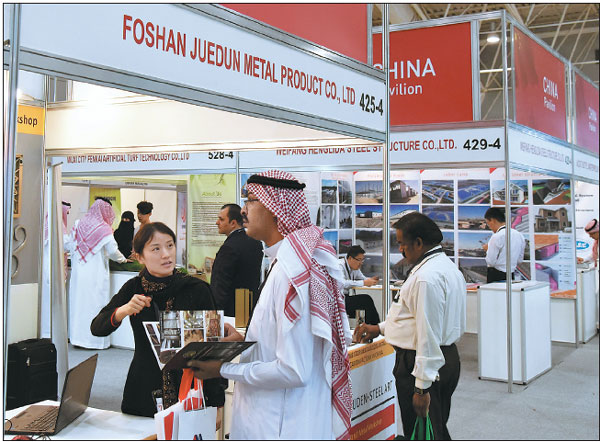 Visitors are attracted by products and services at the China booth during an industrial expo in Riyadh, Saudi Arabia. Tu Yifan / Xinhua
(China Daily 04/26/2019 page29)
Today's Top News
Editor's picks
Most Viewed