Region lights a torch to attract tech companies
The core area of Chengdu Science City, which lines the banks of Xinglong Lake in Tianfu New Area, is a 125-square-meter artificial intelligence industry center. It is expected to become a magnet for technology and services companies, and startups, including unicorn companies, according to officials from the new area.
Tianfu is also putting its weight behind exhibitions, conventions and creative industries to become engines of new growth and high-quality development in Sichuan province, and a model of an inland open economy.
'Unicorn island' begins to take shape in core area
Unicorn companies are startups valued at $1 billion or more, and Tianfu is building what it calls the world's first "unicorn island" - an area aimed at incubating and cultivating unicorn companies, expected to be completed this year.
In February, the area released a document saying it will provide preferential policies to new digital and technology companies in areas such as settlement, scientific research, marketing and incubation.
Chinese AI startup SenseTime has signed up to build its innovation center and project related to the Belt and Road Initiative on the "unicorn island". The computer chip research center of tech company ARM and the AI intelligent headquarters of computer vision startup CloudWalk Technology have also agreed to join.
In April, China Vanke invested more than 30 billion yuan ($4.48 billion), to help make the island a new economy-focused industrial park with a good environment. New economy refers to internet trading and advanced technology.
Vanke's project includes the construction of office buildings, a technological innovation center, a sports and recreational center, a residential community and other commercial facilities. The first phase will start this year.
Qiu Xudong, deputy Party chief of the Chengdu administrative committee in Tianfu New Area, said the island plans to build a digital economy and industry ecosystem with a focus on AI, with the island being a model promoting new economic development.
The area has also built a technological innovation park, overseas talent park and intelligent manufacturing base to support AI development. The Chengdu Science City has built an AI industrial chain covering computational infrastructure, software algorithms and platforms, applications and products.
A 4.6-sq-km Tianfu Wireless Valley is also being built to introduce and cultivate information and communications companies. It's developing 5G-related unmanned retail, autonomous driving, internet of vehicles and intelligent parking lots.
Cultural creative industry players to descend on city
Construction began on the Tianfu Cultural and Creative City in March. With a planning area of 60 sq km, its major industries include tourism, fashion, art, media and creative design. It's home to scenic spots such as the Yanqi Lake wetlands.
During the first Tianfu Cultural and Creative Industries Forum held earlier this month, four companies, including CCCC Tianfu Chengdu Industrial, signed an agreement on "film, television and convergence media broadcasting and sales" project, backed by 5G and internet of things technology in the city.
As part of the project, a media industrial park, a 5G fashionable life experience center and a pastoral recuperation center will be built.
The city has introduced major projects, such as the Tianfu international traveling resort area, international art town and a film industrial park for BRICS countries - Brazil, Russia, India, China and South Africa. The Sino-Italian cultural and creative innovation park, H.Brothers Tianfu international art town and Jialong international traveling resort zone, will all open soon.
The city expects to become a world-renowned cultural and creative attraction, a pioneer in cultural exchanges among countries and regions involved in the BRI and a new landmark in high-quality and green development.
CBD to play key role in dynamic business growth
The Tianfu central business district, with a planning area of 28.6 sq km, is a cluster of headquarters, exhibitions, conventions and international communications. The goal is to construct a first-class CBD and a new city center of Chengdu, to fuel future economic growth in West China.
The district has learned from the design of famous CBDs in developed countries, to gather more high-end companies and institutes, build a classy cultural atmosphere and emphasize a balance between ecological protection and industrial development, according to the Tianfu New Area.
The district is expected to change the format of Chengdu and put the area in competition with other new areas nationwide.
As of now, the district has introduced 32 key projects with investment of up to 112.3 billion yuan. China Railway Group, China State Construction Engineering Corp, China Poly Group Corp and other big names have projects there. Commercial facilities, such as Joy City shopping mall and Yanjiyou bookstore, are also under construction.
The 570,000-sq-m Western China International Expo City has hosted many global and professional exhibitions. The Tianfu international convention center will be put into operation by the end of 2019.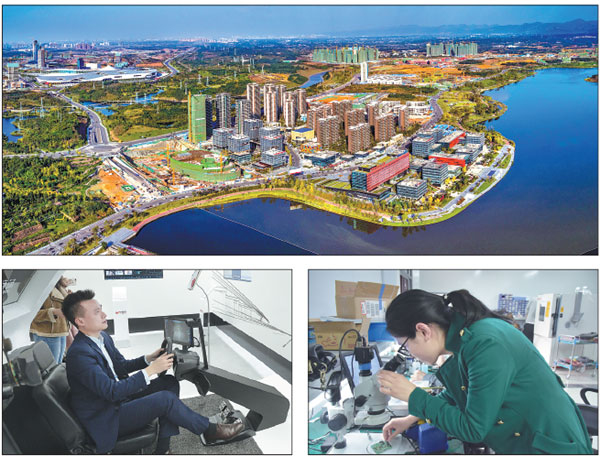 Top: The Chengdu Science City in Tianfu New Area is home to many high-tech companies and institutes. Above: A man experiences virtual driving at a company in the area. A woman operates a precision instrument at a research institute in the area.
(China Daily 04/26/2019 page26)
Today's Top News
Editor's picks
Most Viewed