City graduates choosing to stay put for employment opportunities
Suzhou has become a vibrant hub for academic exchanges after a long-term effort to encourage regional research institutes in the China-Singapore Suzhou Industrial Park, an expert said.
A string of global universities have chosen to launch their research institutes or sub-campuses in the park. This has enriched the local talent pool and brought vigor to the area, said Seow Ngow Liew, deputy director of the National University of Singapore Suzhou Research Institute.
NUSRI, located beside Dushu Lake, is among the first batch of research and educational organizations launched by foreign universities in the park.
Occupying more than 20,000 square meters, the institute is managed by the National University of Singapore, the top Asian university on the QS World University Rankings of 2019.
Their research, encompassing six key research areas that are advanced electronic devices, energy and environment technology, agricultural and food science and technology, interactive multimedia and software development, and nanomaterials and applications, as well as artificial intelligence, serves industrial upgrade and innovation in the park.
The Joint Educational Programme, an educational framework by NUSRI, NUS and partner universities in China, is a five-year study program that includes three years of undergraduate study at partner universities in China, one year of bridging course at NUSRI, and one year of postgraduate study at NUS.
Upon completing the bridging course at NUSRI, students who meet the academic requirements set by partner universities will be awarded the bachelor's degree from partner universities. Consequently, upon completing the final year master's program at NUS, students will be awarded the master's degree from NUS if they meet all the requirements set by NUS.
So far, NUSRI has established partnerships with 25 universities in China, including Nanjing University of Science and Technology, Beijing Institute of Technology, University of Electronic Science and Technology of China and Nanjing University of Aeronautics and Astronautics.
One of the reasons to set up NUSRI is that some faculties with NUS can bring their research findings to Suzhou, contributing to local industrial development, said Liew.
In addition, NUSRI has secured a number of intellectual property protections for its findings. It is also trying to incubate a group of enterprises, said Liew.
On Nov 23, 2017, the NUSRI joined hands with NUS Enterprise and Ascendas-Singbridge Group and launched Block71 Suzhou, a broad platform with the goal to catalyze and aggregate the startup community and connect them with global investors.
To date, it has provided entrepreneurship services to more than 60 business startups from China and Singapore.
"A large number of students from other places decided to stay in Suzhou after their graduation; a very good place. They are willing to work here, start families and develop their career," Liew said.
"This is their individual choice," said Liew. "And as a research institute like us, the most important thing is to give them a chance to see the city and know more about this place."
The Oxford Suzhou Centre for Advanced Research in the Suzhou Industrial Park was launched by the University of Oxford in November last year.
In its 800-year history, this is the first time the University of Oxford has set up an overseas research institution.
The launch of the center is in line with the park's aim to forge strong links with global universities. World class universities including Xi'an Jiaotong-Liverpool University, University of California Los Angeles, Trinity College Dublin, Waterloo University in Canada and Monash University in Australia all have research institutes or campuses in the park.
Thanks to the cultivation of research environment, more than 20 research institutes represented by the Chinese Academy of Sciences and 29 schools operated by both Chinese and foreign institutes have been introduced to the park, bringing together 350,000 professional people of all kinds.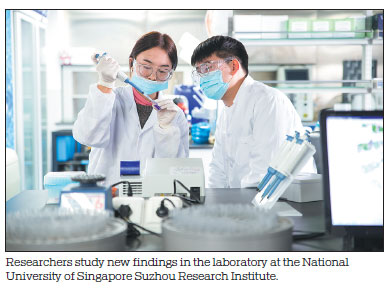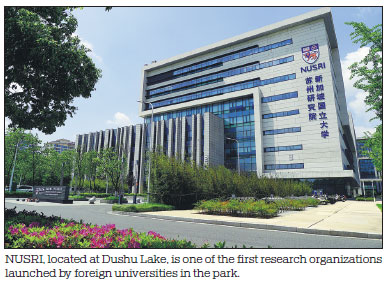 (China Daily 04/12/2019 page12)
Today's Top News
Editor's picks
Most Viewed