May pleads to extend negotiations
PM's effective challenge to MPs: Back me or risk losing Brexit altogether
In a desperate bid to win support for her withdrawal agreement next week, British Prime Minister Theresa May is urging MPs to back a three-month Brexit postponement or face the threat of a much longer delay.
MPs voted on Wednesday to rule out a no-deal Brexit in all circumstances, bringing the possibility of a lengthy delay to the UK's departure from the European Union.
After the result, the prime minister confirmed she would allow MPs a vote, scheduled for late on Thursday, on whether to extend the Article 50 negotiating period to delay Brexit beyond March 29.
After a Cabinet "gang of four" and several more ministers abstained and 17 backbenchers voted against the government in the Commons vote ruling out no deal, the prime minister issued an ultimatum to pro-Leave Conservatives.
She is effectively challenging her rebel MPs who have now defeated her deal twice: Back me or risk losing Brexit altogether. May will make a third attempt to get her EU withdrawal deal through Parliament in the next week. No date has yet been set for the third so-called "meaningful vote".
In the third showdown on Brexit this week, MPs will debate a motion telling the rebels that if the Commons vote for her withdrawal deal by next Wednesday the government will seek to extend Article 50 until June 30.
Deep divisions over Brexit at the heart of May's government were dramatically laid bare on Wednesday as discipline broke down and Cabinet ministers openly defied the prime minister.
Four pro-Remain members of the Cabinet and eight middle-ranking ministers abstained in the 43-vote defeat on no deal and another, Sarah Newton, resigned after voting against the government.
Chancellor Philip Hammond blamed a "difficult and confused situation" in the voting lobbies for the four Cabinet ministers abstaining on the vote to reject a no-deal Brexit.
It was made a three-line whip by the government, meaning every MP from that party is instructed to vote, and the way to do so.
In normal circumstances, they would have either had to resign or be sacked by the prime minister.
Shadow chancellor John McDonnell confirmed to Sky News that Labour would back any request to the EU to delay Brexit.
Arlene Foster, the leader of the Democratic Unionist Party (DUP), a unionist political party in Northern Ireland, whose support for May's deal is seen as a bellwether for many pro-Leave Conservatives suggested she could still yet vote for it, despite not doing so previously.
In a social media post, European Council President Donald Tusk said he will ask EU leaders to be "open" to a long Brexit delay if the UK needs it.
EU Commission Vice-President Frans Timmermans told the UK to "get its act together" in an interview with Sky News.
"All member states are watching London and thinking what do they want ... so they need to sort themselves out," he said.
Asked if the EU would ever really say no to a Brexit delay, Timmermans says: "Nobody wants a no-deal Brexit but just by saying ... doesn't mean it's not going to happen.
"There might be a no-deal Brexit even if they don't want it."
He adds the UK "need to get their act together" before the EU Council summit next week.
Meanwhile, the British government has announced that most imports into the UK would not attract a tariff in the event of a no-deal Brexit.
Under a temporary system, 87 percent of imports by value would be eligible for zero-tariff access. At the moment, 80 percent of imports are tariff-free.
Tariffs would be maintained to protect some industries, including agriculture. Beef, lamb, poultry and some dairy products would receive protection.
jonathan@mail.chinadailyuk.com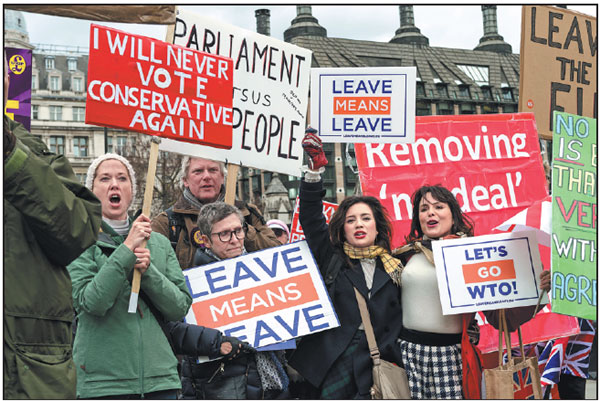 Brexit supporters protest outside the Houses of Parliament in London as they campaign for a no-deal exit from the European Union on Wednesday. Wiktor Szymanowicz / Barcroft Images
(China Daily 03/15/2019 page12)
Today's Top News
Editor's picks
Most Viewed