Music can open our ears and minds to other cultures
As I traveled in January from Singapore to Taipei, Hong Kong, Shanghai and Beijing, I experienced the vibrancy of the classical music scene and the intensity of the focus on education.
I met leaders of Chinese and Western instrument ensembles, and composers who are excited to write for combinations of Chinese and Western instruments. I heard world-class performances, sat in on master classes and crossed paths with recruiting teams from other US conservatories.
I listened to auditions by high school seniors playing the pipa (four-stringed, pear-shaped lute), erhu (two-stringed fiddle), guzheng (21-stringed zither), and ruan (four-stringed round lute), as well as violin, viola and piano, and I talked with parents who are nervous and excited about their children's hopes and dreams for the future. There are so many exciting musical developments in China, and everywhere one sees the emergence of wonderful new talent and ambition.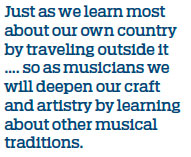 I also had the opportunity to visit two remarkable high schools in China, one private and one public. In both cases, I was so impressed by the rich resources available for education. These are particularly well-off schools, and I realize that education for such an enormous country provides difficult challenges. But it was vividly clear to me that education is a matter of the highest priority in China.
The Bard College Conservatory of Music created the US-China Music Institute in 2017, as the culmination of many years of exploration. The Bard-in-China program was active since 1999, years before the founding of the Bard Conservatory, sponsoring events and exchanges with scholars and institutions in China and elsewhere in Asia. The Bard Conservatory, founded in 2005, was enriched by the presence of distinguished faculty members from China, including three members of the Shanghai String Quartet, and around 35 percent of our students are from China.
The creation of the US-China Music Institute is the result of my friendship with the conductor, educator and writer Jindong Cai. The core idea was to include the possibility of majoring in a Chinese instrument in the Bard Conservatory's distinctive double-degree undergraduate program, in which students pursue a liberal arts bachelor's degree in addition to a bachelor of music degree in a five-year course of study.
Beyond that, our idea was to create a flexible and comprehensive platform for Chinese music in the United States, ranging from educational programs for students of all ages to scholarly conferences, and including a major annual festival in New York City. Cai joined the Bard faculty in 2018 as institute director and professor of music and arts. In December 2017, we signed a comprehensive agreement with the Central Conservatory of Music in Beijing to collaborate on all aspects of our program, working especially closely with its distinguished traditional instrument faculty.
The conservatory provides teachers for our Chinese instrument majors, as part of a four-part system: The teachers make periodic visits to Bard, the students travel to China during their school breaks, the Central Conservatory sends graduate student teaching assistants to Bard each semester, and state-of-the-art video conference technology fills the gaps.
I believe it is important for all students - of all instruments and from all countries - to open their ears and minds to the sounds and traditions and musical ideas of other cultures. Just as we learn most about our own country by traveling outside it and seeing it through the eyes of others, so as musicians we will deepen our craft and artistry by learning about other musical traditions.
The author is dean of the Bard College Conservatory of Music in New York. The views do not necessarily reflect those of China Daily.
(China Daily 02/19/2019 page1)
Today's Top News
Editor's picks
Most Viewed