Priorities changed after I had my baby
I feel that Huilongguan is my home because I have lived here for 20 years (after moving from Heilongjiang province). Since I don't work office hours, transportation is not a huge problem because I can avoid rush hours.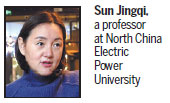 The first time I came here, most of the land was unoccupied, and dust flew everywhere. Within 10 years, I saw cramped buildings gradually take up space in the vast open tracts of land as more and more people came here to live.
I didn't often spend my weekends in the community. I like shopping, so my husband and I used to drive to commercial downtown areas, including Sanlitun in Chaoyang district and Xidan in Xicheng, to relax and have fun.

Today's Top News
Editor's picks
Most Viewed