Sailing on a smooth route
African young people benefit from logistics management program co-launched by universities from the nation and Ghana, Cao Chen reports in Shanghai.
The Yufeng motor vessel run by the Shanghai Maritime University will welcome its seventh batch of African undergraduate interns this June.
Hailing from the logistics management program jointly launched by SMU and the Regional Maritime University in Accra, Ghana, these 16 students will be on board the vessel for a six-day navigation training trip to South Korea. During the training, the students will also get to visit ports in Jiangsu province and South Korea.
Previous trainees have said that the training has been beneficial to their understanding of the maritime sector.
"Getting to train on a ship allowed me to experience how international trade and logistics are done, such as the movement of cargo from the point of origin to its destination," says Benjamin Baffoe, a doctoral student in logistics engineering and management at SMU, who joined the program in 2011.
"We experienced the life of sailors and learned how they need to work hard to transport cargo all over the world. Knowing the harsh working conditions they have to endure has made me respect these professionals even more."
The 30-year-old says that, apart from the training trip, he was also impressed by highly experienced professors and industry experts in the transport, logistics and international shipping industry involved in the joint program, which he described to be "practical and instructive".
Established in 2011, the logistics management program was the first higher education program for universities and colleges in Shanghai aimed at enhancing cooperation with foreign universities beyond simple linguistic interaction.
A total of 222 students from eight countries including Ghana, Nigeria and Cameroon have enrolled in the program since its inception. SMU, which is mainly in charge of teaching responsibilities, has sent 18 teachers who specialize in logistics and shipping to Ghana.
According to Ge Yingen, dean of college of transport and communications at SMU, the program has become part of Belt and Road Initiative efforts to encourage enterprises and institutions to participate in projects related to infrastructure construction, transportation, communications and electric power in African nations.
"The program aims to train senior professionals in the Central and West African region in terms of shipping and logistics," says Ge.
"We hope further trade and business exchanges, as well as the greater development of China-Africa relations, will be reinforced through the program."
During his speech at the inauguration of the program in 2011, Michael Luguje, the then representative of International Maritime Organization, stressed that the cooperation will "facilitate healthy and efficient development of logistics industry globally".
Students enrolled in Africa spend the first two and final years studying at RMU, while the third year is spent at SMU. The graduation is done at RMU jointly with SMU.
During the stint in Shanghai, multiple activities are offered to students as well, such as visits to the China Maritime Museum and the Yangshan Deep Water Port. SMU has also cooperated with logistics enterprises to set up a local logistics internship base to help African students search for jobs in China.
The Shanghai university has also signed a strategic cooperation framework agreement with Tianyuan Manganese Industry Group, a leading global producer of electrolytic manganese metal based in Ghana, to work together in areas such as international student internship, scholarship sponsoring and industry research.
Zheng Shiyuan, a professor at a college for transport and communications who went to RMU twice in 2017 and 2018, pointed out that the shipping industry in Africa has received a boost because of the joint program.
In addition to learning about the shipping and logistics industry in Africa, Wang Xuefeng, another professor who once taught at RMU, says he values the opportunity to teach in an international environment and be involved in cross-cultural interactions in Africa.
Wang says: "We lived with local people and our landlord sometimes cooked Cantonese cuisine for us, which she learned during a trip to Guangdong province. We also went fishing sometimes.
"I was impressed that African students are so hospitable and so thirsty for knowledge."
Thompson Anu, an undergraduate in logistics management, says he was also impressed with his one-year stint at SMU.
"It was enriching to learn about logistics and how it works both at home in Ghana and here in China as it gives us various perspectives," he says.
Anu adds that the facilities provided during their class at SMU also helped in making the learning experience special.
"Students learn using software such as Flexsim and Sealink, which help us to make good decisions and solve logistics problems more efficiently. The Sealink software encourages fast movement of information in the shipping industry and is helping the industry to go paperless," he says.
Abudu Ruhaimatu from Ghana shares the same sentiment.
"Here, we are not only taught from books, so that makes the program practical and useful and not just abstract," says Ruhaimatu, who also likes that students at SMU have access to a comprehensive library that helps with research.
After spending a year in Shanghai, Ruhaimatu says she is able to make a positive impact at home using the skills she has learned.
"It isn't only about what we have learned in class, but also what we have experienced. The delivery centers and services in China are superb. Ghana's online marketing scene is also not as advanced as in China," she says.
In fact, Ruhaimatu had even written a proposal to set up a marketing platform in Africa during her project management class.
"I believe we can do the same in Africa. I had a good recommendation from the professor from that course who encouraged me to bring it to light."
Baffoe agrees. He says: "Africa can stand on its own two feet when it comes to international trade in the future, when the younger generation is prepared to meet the bigger demands ahead of us. This program is helping to fulfill that vision. I am glad the leadership of SMU and RMU took the initiative to establish this program."
Contact the writer at caochen@chinadaily.com.cn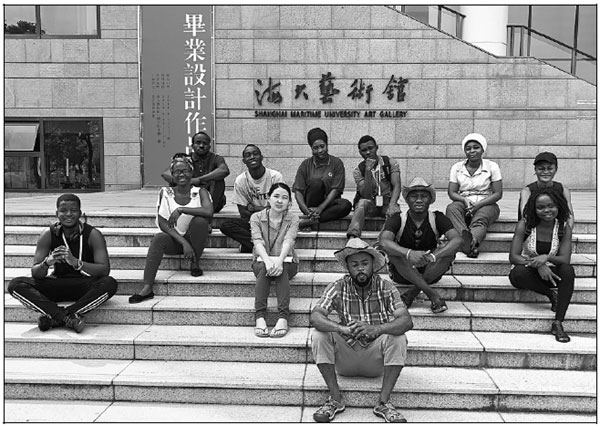 Abudu Ruhaimatu (second from left) from Ghana, together with some classmates, visits the Shanghai Maritime University Art Gallery with their SMU teacher, Guo Xianfeng. Provided to China Daily
(China Daily 01/23/2019 page14)
Today's Top News
Editor's picks
Most Viewed