Sino-Swiss partnership a model for the future
Located in the heart of Europe, independent and open to the world, Switzerland has a special relationship with China. In a diverse, complex and interdependent world, this relationship can serve as a model to address many of today's challenges.
Every year around this time, world leaders gather in the town of Davos in the beautiful mountains of Switzerland. I am pleased to know that, after the participation of President Xi Jinping in 2017, China will this year be represented at a very high level by Vice-President Wang Qishan.
Since the reform and opening-up of China began in 1978, the country has been transformed in a singular and breathtaking way. Having become the second-largest economy in the world and having lifted up to 800 million people out of poverty, China's achievements are tremendous.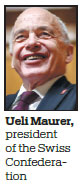 Today, China is an essential part of the world community. It is thus only natural that important Chinese delegations attend the World Economic Forum in Davos every year.
In 1950, Switzerland was among the first Western countries to recognize the People's Republic of China. It has since accompanied the integration of the Chinese economy into globalization, notably when it recognized China as a market economy in 2007. In 2013, Switzerland, as the first continental European country, also concluded a free-trade agreement with China. Swiss companies also established the first industrial and financial joint ventures in China, paving the way for trade and investment between China and the world.
In addition, Switzerland is a founding member of the Chinese-initiated Asian Infrastructure Investment Bank and has paid special attention to the Belt and Road Initiative from early on. With the renminbi hub in Zurich, Switzerland demonstrates its commitment to integrating the Chinese financial market into the global market.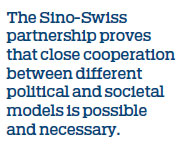 Switzerland is in the heart of Europe but is not a member of the European Union. We share many traditions and values with our European neighbors. Political and economic relations are close - the result of well-negotiated bilateral relations. Switzerland has effective and stable political institutions, its own strong currency and the sovereignty to deepen bilateral political and economic relations at its own discretion.
Relations between China and Switzerland have come a long way. Knowledge, understanding and cooperation between our two nations have grown steadily. Today, China is Switzerland's third-largest trading partner. Swiss companies and financial institutions have a strong presence in China. In 2017, I chose China for my first visit with representatives from the Swiss financial sector, demonstrating our strong commitment to the Chinese market. China and Switzerland lead more than 30 official sectoral dialogues on topics as diverse as economy, finance, migration, intellectual property, labor law and human rights.
In 2016, with the establishment of the Sino-Swiss Innovative Strategic Partnership, bilateral relations reached a new level. This partnership is strengthened by personal contacts in an atmosphere of trust. It allows for profound dialogues, even when there are differing views. The Sino-Swiss partnership proves that close cooperation between different political and societal models is possible and necessary.
Switzerland supports opening-up and the integration of China into the global economic and political order. Switzerland welcomes China's initiative to integrate markets and infrastructure between China and Europe under the Belt and Road Initiative, and to contribute to prosperity and poverty reduction along the BRI routes. Switzerland advocates the incorporation of international norms and standards in this initiative.
As a finance minister, I am particularly concerned about the fragmentation of global financial markets and unilateral measures to globally tax the digital economy. These issues can only be resolved together.
It was my pleasure, in my capacity as president of the Swiss Confederation, to welcome the Chinese delegation to Switzerland on Monday and to further deepen our bilateral partnership.
(China Daily 01/22/2019 page1)
Today's Top News
Editor's picks
Most Viewed