ALL EYES IN DAVOS FOCUSED ON GLOBAL RISKS
Annual gathering to strive for inclusive growth, renewed collaboration
Just six days before more than 3,000 VIPs were due to land in the small Swiss Alpine ski resort of Davos for the annual World Economic Forum, its organizers issued a warning of grave global challenges.
In its Global Risks Report 2019, the WEF highlighted several climate-related risks as well as those posed by a slowing world economy, geopolitical rivalry, weapons of mass destruction, cyberattacks, the spread of infectious diseases and large-scale, involuntary migration.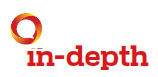 "Global risks are intensifying, but the collective will to tackle them appears to be lacking. Instead, divisions are hardening," said the report, which drew the views of 1,000 experts and decision-makers from around the world.
The report cautioned that the idea of "taking back control" - whether domestically from political rivals or externally from multilateral or supranational organizations - resonates across many countries and issues.
This was probably a reference to United States President Donald Trump's America First policy, Brexit and growing populism in several industrialized nations, widely viewed as anti-globalization forces.
Geopolitical and geoeconomic tensions are rising among the world's major powers, and these tensions currently represent the most urgent global risks, the report said.
"We are moving from a unipolar to a multipolar world. We are also moving from a uniconceptual to a multiconceptual world," Klaus Schwab, founder and executive chairman of the WEF, said at a news conference in Geneva, Switzerland, on Tuesday.
"Dialogues in order to create mutual understanding are more necessary than ever before because we have to look at how in a world in which we do not necessarily share values, we share at least common interests," said Schwab, who founded the forum in 1971.
His comments came as several prominent world leaders canceled their trips to the annual gathering to cope with domestic issues. Trump announced on Jan 10 that he would not go to Davos due to a partial federal government shutdown and his fight with the Democrats over funding for a wall on the Mexican border.
On Thursday, the White House confirmed that Trump had canceled his delegation's trip to Davos due to the government shutdown - the longest in US history. Secretary of State Mike Pompeo, Treasury Secretary Steven Mnuchin and Commerce Secretary Wilbur Ross had all been expected to attend and speak at a number of high-profile events to explain the often controversial policies of the Trump administration.
French President Emmanuel Macron, haunted by 10 weeks of massive protests by the yellow vests movement, also canceled his trip to the WEF, which will be held from Tuesday to Friday.
United Kingdom Prime Minister Theresa May, whose Brexit deal was defeated last week in Parliament but who narrowly survived a no-confidence vote, will also miss Davos to deal with the turmoil at home just 10 weeks before her country is due to leave the European Union.
However, Schwab said he is proud of the unprecedented participation from emerging powers, such as the more than 140 Chinese participants - with 11 at ministerial level - and more than 100 attending from India.
According to a study by multinational banking and financial services company Standard Chartered released early this month, China and India will be the world's top two economies by 2030 measured by nominal GDP using purchasing power parity exchange rates. By 2030, seven of the top 10 places will be dominated by emerging economies, which also comprise Indonesia, Turkey, Brazil, Egypt and Russia.
Vice-President Wang Qishan will attend the WEF while also paying an official visit to Switzerland. He is scheduled to deliver a speech on Wednesday afternoon.
Other prominent world leaders who will attend include Japanese Prime Minister Shinzo Abe, German Chancellor Angela Merkel, new Brazilian President Jair Bolsonaro and Italian Prime Minister Giuseppe Conte. Some 65 heads of state and top international organizations are expected to be among about 3,000 government, business and civil society leaders from the more than 110 countries attending.
Economic slowdown
On Monday, just a day before the formal start of the WEF, Christine Lagarde, managing director of the International Monetary Fund, will present an update on the World Economic Outlook - a survey conducted and published by the Fund - in Davos. She is likely to renew the IMF's call on countries to foster cooperation to tackle challenges that extend beyond their borders, curb excess imbalances, strength-en inclusive growth, build resilience and improve convergence prospects for low-income developing countries.
In its World Economic Outlook report in October, the IMF cut its global growth forecast for last year by 0.2 percentage points to 3.7 percent partly due to trade tensions between the US and its trading partners.
The IMF warned that escalating trade tensions and the potential shift away from a multilateral, rules-based trading system are key threats to the global outlook. It said intensified trade tensions and rising policy uncertainty could dent business and financial market sentiment, trigger market volatility and slow investment and trade.
The IMF has long warned that higher trade barriers would disrupt global supply chains and slow the spread of new technologies, ultimately lowering global productivity and prosperity. More restrictions on imports would also make tradable consumer goods less affordable, harming low-income households disproportionately.
The comments have been widely interpreted as pointing to the Trump administration's unilateral and protectionist trade policies, which have inflicted costs on the US economy and others that are now deeply integrated in global supply chains.
Theodore Pelagidis, a professor of economic analysis at the University of Piraeus in Greece, said, "I expect that Davos 2019 will focus on the coming economic slowdown, indeed in an unstable political context of increased social polarization driven by nationalistic populism both in Europe and the US."
He attributed the rise of populism to the breakup of the middle class in Western countries. "As an economic slowdown is in front of us, political polarization is expected to become even more radical and aggressive," he said.
Pelagidis, who is also a nonresident senior fellow of the Brookings Institution in Washington, believes the WEF may contribute to a better understanding of what lies ahead. "And by trying to define uncharted waters, it could lead to the realization of the high political and economic risks that the global economy is going to face in the next couple of years," he said.
Peter Bottelier, a visiting scholar at Johns Hopkins University School of Advanced International Studies in Washington, said the annual WEF meeting should definitely focus on the merits of multilateral approaches to solving and addressing global challenges.
"I hope that the meeting will openly and honestly discuss President Trump's ill-considered, mercantilistic, retrogressive, illegal and dangerous trade policies, especially vis-a-vis China," said Bottelier, a former World Bank official whose roles included being head of the bank's resident mission in China.
China and the US have engaged in a tit-for-tat tariff war in recent months, since the Trump administration fired the first shots at China and other major trade partners last year.
But many observers have seen signs for cautious optimism in recent weeks after renewed bilateral consultations between Beijing and Washington. Trump tweeted on Jan 8, "Talks with China are going very well".
Vice-Premier Liu He will visit Washington on Jan 30 and 31 for further consultations on trade and economic issues, the Ministry of Commerce said on Thursday.
Globalization 4.0
While the China-US spat is likely to draw much attention in Davos, the theme of this year's gathering - Globalization 4.0: Sharing a Global Architecture in the Age of the Fourth Industrial Revolution goes far beyond trade wars.
Globalization 4.0 has been interpreted by some commentators as a bid to build a world order and international architecture under the new political realities of the 21st century, including taking into consideration factors such as inequality, the rise of populism, the invention and disruption caused by new technologies, and the outdated global governance system.
Organizers said Globalization 4.0 is aimed at finding new models for peace, inclusiveness and sustainability. "This fourth wave of globalization needs to be human-centered, inclusive and sustainable," said Schwab, of the WEF, who was among 10 foreigners to be granted the China Reform Friendship Award in December.
Many experts have stressed that Globalization 4.0 must better address the problems faced by people who have been left behind both in the developed and developing worlds.
Schwab said the world is entering a period of profound global instability brought on by the technological disruption of the Fourth Industrial Revolution and the realignment of geoeconomics and geopolitical forces. "We need principals from all stakeholder groups in Davos to summon the imagination and commitment necessary to tackle it," he said.
In a recent article titled Globalization 4.0: The Davos 2019 Manifesto, Schwab cited the fact that national leaders came together after World War II to design a new set of institutional structures to enable the post-war world to collaborate toward building a shared future.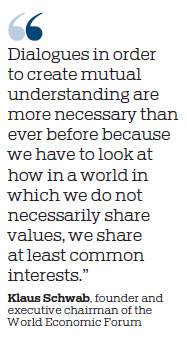 "The world has changed, and as a matter of urgency, we must undertake this process again," he said.
At the WEF, government, business and civil society leaders will offer their perspectives on what Globalization 4.0 should look like. Many experts believe that the world, including government and business leaders, is underprepared for the challenges and opportunities brought by the Fourth Industrial Revolution.
The 350 sessions packed into the four-day WEF annual meetings, with half of the events to be webcast live, will center on dialogues about geopolitics in a multiconceptual world, the future of the global economy, industrial systems and technology policy, risk resilience to promote systems-thinking, human capital and society, and institutional reform.
New technologies, such as digital, will be a key topic in many discussions. While the technologies are likely to cause disruptions across industries and societies, Schwab believes they could also help underdeveloped regions, such as some in Africa, to catch up and narrow the gap with other areas.
Chen Shengqiang, CEO of JD Digits, a leading Chinese digital technology company, will be among many tech chiefs from the country attending the WEF this year.
He believes the data-driven economy continues to transform global value chains and to promote more economic players from different regions worldwide into the wave of globalization.
"Represented by digital technology, the Fourth Industrial Revolution changes a company's internal operating model, generates a data-driven global economy, helps to build a community with a shared future for mankind and to break 'self-centered consciousness' in the concept of value," he said on Saturday.
UN Secretary-General Antonio Guterres, an ardent advocate of multilateralism and action over climate change, will share his vision on Thursday in a conversation chaired by Borge Brende, president of the WEF.
Guterres reiterated the importance of multilateralism in a speech at the UN headquarters in New York on Friday. "As we look to the challenges we face - from climate change to migration to terrorism to the downsides of globalization - there is no doubt in my mind that global challenges require global solutions," he said.
"No country can do it alone. We need multilateralism more than ever,"
Guterres said his "absolute priority for 2019" is to make sure the UN is a "platform for action to repair broken trust in a broken world and deliver for people."
chenweihua@chinadaily.com.cn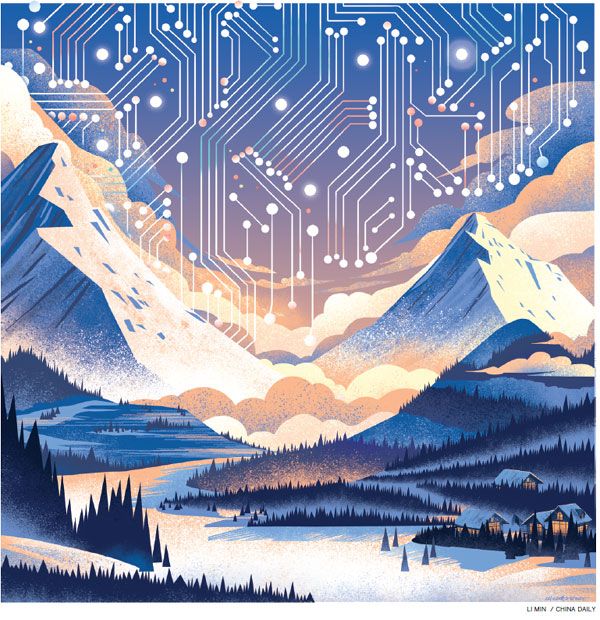 (China Daily 01/21/2019 page1)
Today's Top News
Editor's picks
Most Viewed