Lanxess strengthens presence in Chinese market
German specialty chemicals company Lanxess said it is strengthening its presence in the growth market of Asia, with the largest share of its investment going to China.
The Cologne-based company announced on Thursday that it will invest up to 250 million euros ($283 million) in the Asia-Pacific region in the next five years.
"Asia, and in particular China, is a key growth region for Lanxess," said Hubert Fink, member of the board of management of Lanxess.
"We are now underlining our commitment with this major investment package to leverage on our full potential there," Fink added.
The company will use the funding to further strengthen its footprint in the country. Lanxess began operating in China in 2005, and the company has steadily grown its business in terms of asset base and turnover.
The company's revenue nearly tripled during that period and in 2017, it posted record sales of around 1.2 billion euros in China, accounting for approximately 13 percent of global sales.
The company says it is supporting China's development, which focuses on high-quality development and industrial upgrading, with Lanxess' wide product range in areas such as mobility, urbanization, clean water and health.
"China is entering into a new phase of development driven by its consumer upgrading," said Ming Cheng Chien, president of Lanxess Asia-Pacific.
"We therefore continue to see great growth potential for our specialty chemicals product portfolio here."
Among the products supplied by Lanxess are high-performance plastics for the automotive and electronics industries, and flame retardants for applications in the automotive and construction industries, as well as ion exchange resins and reverse osmosis membranes for the processing and cleaning of water.
In March, the company started the construction of a high-performance plastics compounding plant in Changzhou, in the province of Jiangsu, with an investment of 20 million euros.
The plant is tailor-made for the automotive sector and the electrical and electronics industries. It has a capacity of up to 25,000 metric tons of high-tech plastics per annum and is expected to start production in the second quarter of 2019.
The company already operates a plant for high-performance plastics in Wuxi city, also in the province of Jiangsu.
Lanxess is represented through all of its 10 business units in the Chinese market. With the acquisition last year of US flame retardant and lubricant additives supplier Chemtura, completed in April 2017, Lanxess has expanded its platforms with three new sites.
Now, the company has nine production sites, and nine centers for research and development as well as five sales offices including the headquarters in Shanghai. Currently, more than 1,900 employees are working for Lanxess in China, nearly three times as many as when the company started operating in the country in 2005.
During the 13 years since its establishment, the company has been recognized six times as "Top Employer China" by the Top Employers Institute.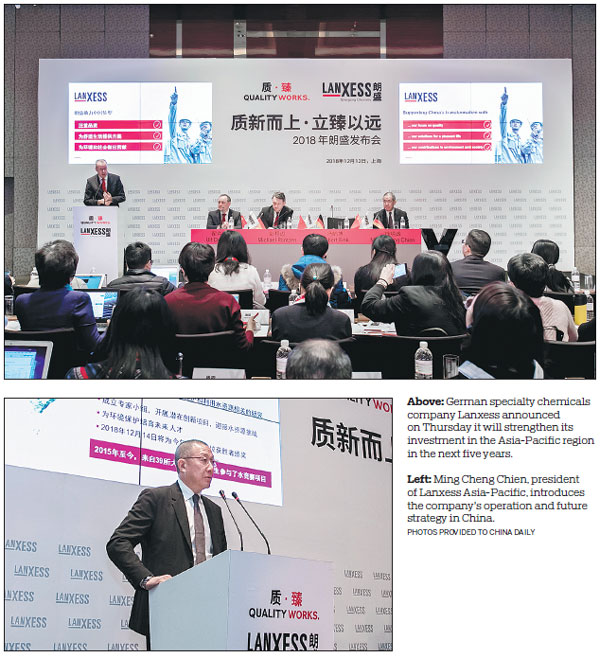 (China Daily 12/14/2018 page12)
Today's Top News
Editor's picks
Most Viewed