Outlook appears bright for sustained growth in travel
Improved political and business ties - supported by factors such as diversified tourism products, simplified visa procedures and the development of the Belt and Road - will further stimulate people-to-people exchanges and tourism between China and Portugal over the next decade, according to travel industry experts.
Dai Bin, head of the Beijing-based China Tourism Academy, said the signs were good for strong development.
He said Portuguese culture, as well as its World Cultural Heritage sites, supportive policies and mature tourism facilities, would push the growth of travel by Chinese tourists to the country over the next 10 years.
Officials from the National Tourist Board of Portugal said China plays an important role as a source of tourists to the country and they will continue to gain more understanding of the particular needs of Chinese visitors and provide them with a better travel experience.
Tourism revenue from Chinese tourists to Portugal almost doubled in 2017 compared to the previous year, and the number of Chinese tourists surged to nearly 260,000 last year, a year-on-year growth of more than 40 percent, said Filipe Silva, a board member of Portugal's tourism authority.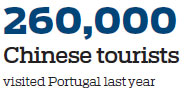 Wang Jianfeng, a professor specializing in tourism management at Beijing Technology and Business University, said that much of the growth in the Portuguese tourism sector was being driven by visitors from Asia.
"These included tourists from China, South Korea and India in recent years, and thanks to their growing disposable incomes, the demand is growing for in-depth travel. Not just to major cities, but also to popular towns and the countryside," he said.
"We have also found that many Chinese tourists prefer to visit Portugal and Spain together when making their travel plans, because they are closer to each other and can share the air routes."
The majority of Chinese tourists heading overseas have middle to high incomes, with around 73 percent spending 5,500 yuan to 22,000 yuan ($800-$3,200) on their travels in 2017, according to a report by the China Tourism Academy released in May. They prefer medium-priced or budget hotels and tend to choose self-planned, customized vacations, the report added.
(China Daily 12/06/2018 page18)
Today's Top News
Editor's picks
Most Viewed