Classic Kuqu Opera performance wows Berlin audience
BERLIN - China's Kunqu Opera classic The Four Dreams of Linchuan was staged in Germany's Berliner Festspiele theater over the weekend, prompting a surge in the number of enthusiastic viewers.
The Four Dreams of Linchuan, a masterpiece written by Tang Xianzu (1550-1616) during the Ming Dynasty (1368-1644), is a collection of four major dramas including the most renowned, The Peony Pavilion.
The four "dreams" were brought onto the Berlin stage in four separate performances on Saturday and Sunday by the Shanghai Kunju Opera Troupe.
To help the audience better understand the storylines and the artistic styles of Kunqu, the Berliner Festspiele hosted several introductory sessions and workshops.
When the last drama The Peony Pavilion ended, the audience reacted with wild applause and cheers, as well as a standing ovation, as the curtain fell and rose again several times, with the cast saluting the audience in Kunqu-style figures.
The Peony Pavilion, a love story that transcends time and space, as well as life and death, has become a classic.
"It's a human story, a story that may happen everywhere," said Lara Messante, a local viewer.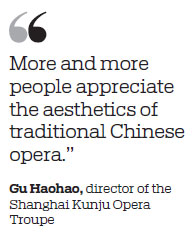 She said that the only difference between the East and the West lies in the artistic presentation. While European operas are more "expressionist" in revealing people's feelings, Chinese operas use many styles.
Thomas Oberender, director of the Berliner Festspiele, said that such a sophisticated art form, including its music, visuals and acrobatics, is inspiring for western contemporary artists. The German audience, he said, appreciated the Chinese art form of talking with symbols.
Commenting on The Four Dreams of Linchuan, Oberender said: "It's very close to our Western narration of 'life is dream', and for me, it's very interesting to get to learn this artistic language, which is close to our silent film tradition."
Gu Haohao, director of the Shanghai Kunju Opera Troupe and also an award-winning Kunqu artist, said she has been observing the audience throughout the four shows, and the enthusiasm of local audience was something she had never seen since she first stepped onto the European stage 17 years ago.
"Now, more and more people appreciate the aesthetics of traditional Chinese opera," she said.
Kunqu opera combines literary texts, music, costume designs and performances, and was listed as world intangible cultural heritage by the United Nations Educational, Scientific and Cultural Organization in 2001.
Xinhua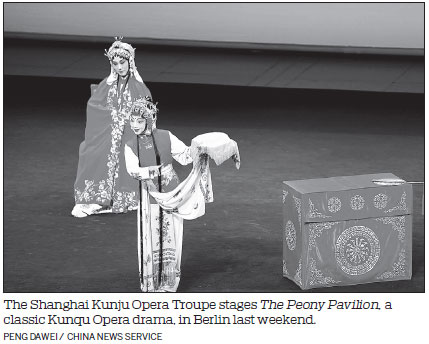 (China Daily 12/06/2018 page17)
Today's Top News
Editor's picks
Most Viewed