New coffee shop adds royal flavors to Palace Museum
The Palace Museum opened a coffee shop for the modern-day guests of Chinese emperors over the weekend - the Corner Tower Cafe - and it quickly became a hot spot for visitors, bringing traditional cultural heritage closer to the younger generation.
Zhang Lu, a college student who ordered coffee, said she likes the location near the museum's entrance. "The shop is at the corner of the Forbidden City. Having coffee in such a quiet and ancient place makes me think of old stories about what happened here."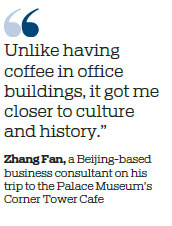 Zhang Fan, a business consultant in Beijing, said, "Unlike having coffee in office buildings, it got me closer to culture and history."

Today's Top News
Editor's picks
Most Viewed