Rich offering of French magic, Chinese talent kicks off
The Jimei x Arles International Photo Festival - derived from the world renowned photography festival Rencontres d'Arles - kicked off in Xiamen's Jimei district on Nov 23 to great fanfare.
The festival, which emphasizes boosting cooperation between the city of Arles in southern France and China in photography, is presenting photographic works by more than 70 global photographers.
A photography festival comprising eight selected exhibitions displayed in Arles this summer has been brought to Jimei, presented together with more than 30 themed exhibition projects.
The festival, organized by the director of Rencontres d'Arles, Sam Stourdze, and Chinese photographer Rong Rong, aims at providing the artworks of prestigious photographers to local people and confirming its role as a way of appreciating the efforts of Asian photographers.
Besides the exhibition offerings, a number of events are being organized for photographic professionals, art lovers and the public in its more than one-month duration. These include photobook fairs, photo folio reviews, photography seminars, screenings, discussion panels, art performances and guided tours.
In addition, this year's photography festival is highlighting Chinese photographers' work through a series of onsite works led by outstanding local artists.
A special exhibition display with the theme of Fujian Photographers of the 1980s - and participated in by local artists Chen Yongpeng, Li Shixiong, Wang Lujia and Zeng Huang - aims to showcase the development of photography in Xiamen.
He Dongning, chief of Jimei district, said that Jimei has a profound cultural tradition and unique advantages to develop the cultural and artistic industries.
He added that the Jimei x Arles International Photo Festival provides a visual feast involving vision and art, new senses and ideas, for the visitors from China and abroad. It brings unparalleled experience as a significant platform for cultural exchanges between China and France.
"Through holding high-profile events with wide participation and deep influence like this, we hope to promote the development of the cultural and creative industry and the tourism in the district and accelerate the development of its new urban area," He said.
Rong Rong, one of the curators of the festival said: "At this very moment, it reminds me of the scenario three years ago when we had just settled in Jimei district; it was barren all around except for those magnificent buildings. Now, it is getting more and more prosperous."
Rong said the Jimei festival is injecting an international vision into Jimei, creating dialogue and expanding new possibilities in the name of photography.
Zhong Jinming, a young artist who is participating in the exhibition for the first time, said that the event provides not only a platform to appreciate the works of other artists, but also a new starting point for his future creation and career.
The Jimei x Arles International Photo Festival has been held for three years. Over the past sessions, it has attracted more than 160,000 global audiences, according to its organizers.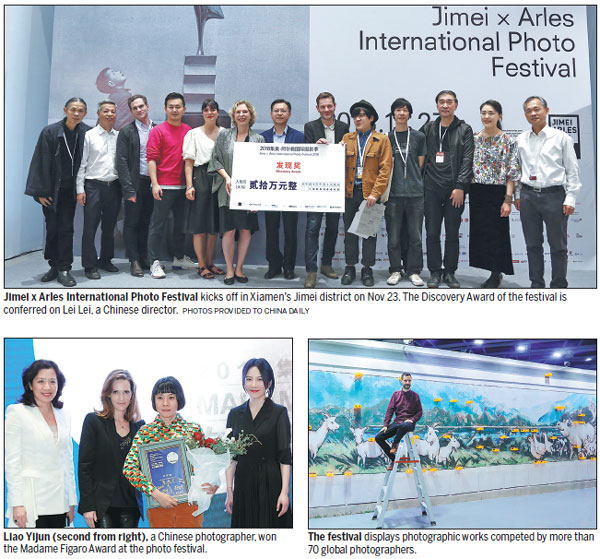 (China Daily 11/30/2018 page10)
Today's Top News
Editor's picks
Most Viewed