INNOVATION AREA INCREASINGLY CRITICAL TO HIGH-TECH INDUSTRY
Zhangjiang demonstration zone announces industrial integrated circuits sales revenue up 14 percent in 2017
Shanghai's Zhangjiang National Innovation Demonstration Zone has become one of the most important pillars supporting the development of the city's integrated circuits industry.
According to the zone's authority, almost all major IC design companies and all chipset production companies in Shanghai were located in the area as of the end of 2017.
Sales revenue generated by IC businesses in the zone reached 98.22 billion yuan ($14.17 billion) in 2017, an increase of 14 percent over the previous year. That represented 83.39 percent of the revenue reported by Shanghai's entire IC industry, up from 81.85 percent in 2016.
By the end of June, the zone was home to 178 IC companies, including leading Chinese chip manufacturers Semiconductor Manufacturing International Corp, or SMIC, Shanghai Huahong (Group) and Huada Semiconductor, which turn out products servicing the mobile communications, industrial control, automotive and power sectors.
Supported by the national and local authorities, the semiconductor equipment and materials development and production industry reported signifi cant growth in recent years.
In 2017, sales revenue posted by semiconductor equipment and materials businesses, part of IC industry, in Zhangjiang hit 12.07 billion yuan, a 37 percent year-on-year increase.
In 2018, Zhangjiang's IC industry has maintained stable growth from the previous year.
In the first half of 2018, sales revenue generated by IC businesses in the zone reached 45.34 billion yuan, a year-on-year increase of 6.1 percent.
The Zhangjiang High-tech Park, also known as the core park among Zhangjiang's 22 industrial parks scattered across all 16 districts of Shanghai, plays a vital and irreplaceable role in supporting the city's entire IC industry. The zone has one of the largest, most concentrated and relatively complete IC industrial chains in China. Statistics from the Zhangjiang demonstration zone show that about 51 percent of sales revenue of Shanghai's entire IC industry came from businesses located in the core park.
The park will continue to lead the development of Shanghai's IC industry in upcoming years, according to the authority.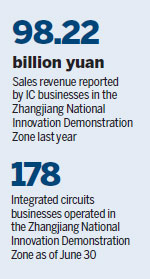 Companies in the zone have achieved outstanding results in support of IC industry development.
For instance, SMIC and Shanghai Huali Microelectronics Corp have become leading wafer producers in China. SMIC unveiled the 28-nanometer high-k dielectrics metal gate, or HKMG, process in 2017 and rapidly put it into mass production. It also reported breakthroughs in 14 nm process technology.
Shanghai Zhaoxin Semiconductor Co, a State-owned company established in 2013, has become a leading domestic IC design house, with research and development centers and domestic branch o7 ces in Beijing, Wuhan in Hubei province, Shenzhen in Guangdong province and Xi'an in Shaanxi province.
In 2017, more than 130 types of products in 16 categories were produced in Zhangjiang, according to the zone.
By the end of 2017, total investment in the IC industry in Zhangjiang reached $26.69 billion.
In recent years, many preferential policies have been developed by the central and Shanghai governments to support Zhangjiang's IC industry.
In addition to the IC industry, the Zhangjiang demonstration zone also reported outstanding results in sectors such as pharmaceuticals, new materials and future information technology.
Biomedical manufacturing businesses in the demonstration zone reported 71.7 billion yuan in terms of overall industrial output value in 2017, a year-on-year increase of 5.1 percent. The net profit was 12.12 billion yuan, an increase of 9.2 percent year-on-year, according to zone officials.
The zone, home to 45,000 foreign experts and overseas returnees, is also continuing its campaign to attract professionals from across the globe to play a critical role in achieving scientific innovation.
Foreigner entry and exit service sites have been open in its industrial parks since 2015, so that overseas professionals can visit the nearest o7 ce rather than the central Shanghai's exit-entry department.
The zone also actively provides recommendations and certifications for those top professionals who want to apply for permanent residence in China.
Zhangjiang is also aiming to receive approval from the Ministry of Public Security to launch more entry-exit policies to better meet professional demand, according to the zone.

The Pudong Software Park in the Zhangjiang National Innovation Demonstration Zone is a gathering hub for integrated circuits businesses.Photos Provided To China Daily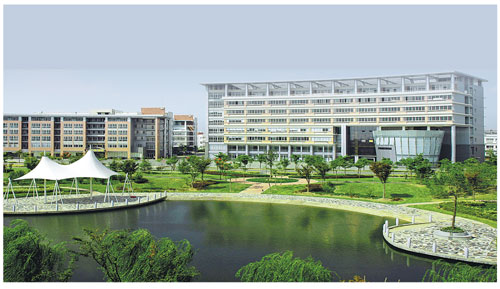 The Zhangjiang National Innovation Demonstration Zone in Shanghai is also home to a great number of pharmaceuticals companies.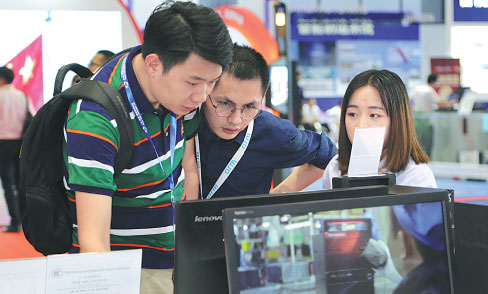 Visitors check a product developed by Shanghai Zhaoxin Semiconductor Co at an exhibition.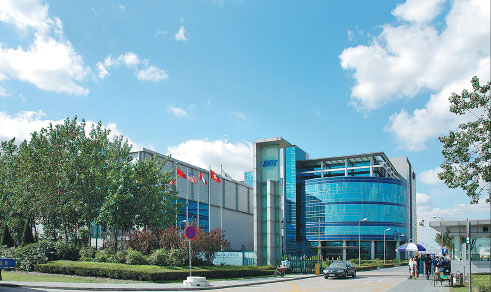 Semiconductor Manufacturing International Corp, headquartered in Shanghai, is a leading wafer producer in China.
(China Daily 11/09/2018 page10)
Today's Top News
Editor's picks
Most Viewed