Province burns bright as investment hot spot amid industrial boom
Hainan has attracted a large number of well-known domestic and foreign conglomerates to operate their businesses in the region amid a new round of investment and an industrial boom since April, according to the local government.
It comes as the central government announced it will support the island province in establishing a free trade zone and help it to explore the construction of a free trade port with Chinese characteristics and an open economic system.
Official statistics from the Hainan Provincial Department of Commerce showed that Hainan has signed 159 contracts with world-leading enterprises and companies since April this year, many of them are among the world's top 500 companies.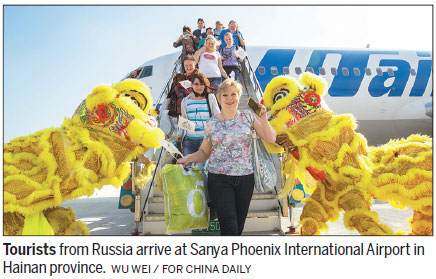 A total of 75 projects have been implemented and more than 400 are under negotiation.
Most of the projects focus on modern service industries such as tourism, medicine and healthcare and finance. Others include energy projects with large investment, such as oil and gas exploration, high-tech enterprises in deep sea and aerospace research and development, according to the department of commerce.
This year marks the 30th anniversary of the establishment of Hainan as a province, the youngest province in China, and a provincial-level special economic zone.
On Oct 18, Baidu Inc, China's internet search engine, and the Hainan Provincial People's Government signed an agreement to build an eco-village with an investment of 10 billion yuan ($1.45 billion).
Relying on Baidu's ecosystem, the Baidu Hainan Eco-village will integrate resources from Baidu, Baidu Union, Baidu-CKGSB Academy and their partners.
It is expected to be built by the Hainan Resort Software Community in Chengmai, about 60 kilometers from Haikou, capital city of Hainan province. In addition, Baidu has recently released its XuperChain blockchain system, and announced that its subsidiary, Dulian, will settle in Hainan.
To date, Hainan has attracted all three domestic internet giants, Baidu, Alibaba and Tencent, to its shores.
On Sept 12, the nation's top travel business conglomerate China National Travel Service Group, which has a registered capital of 15.8 billion yuan, moved its headquarters from Beijing to Haikou, demonstrating its confidence in Hainan's development prospects.
The continuing movements are an important result of the province's efforts in attracting investment and building a headquarters economy, in line with the blueprints of the central government for Hainan to become a free trade zone.
"The Hainan free trade zone has a bright future, and we hope our cultural and tourism projects can be effectively promoted in Hainan," said Sun Hongbin, chairman of the board of directors of Sunac, which is planning to settle the headquarters for its culture and travel group in Hainan.
The construction of the Hainan FTZ has attracted overseas companies as well.
"The Ministry of Commerce will actively support Hainan province with a series of foreign investment attraction events, and promote the province's foreign investment cooperation," said Wang Shouwen, vice-minister of commerce.
At a symposium on foreign investment projects in Hainan held in Beijing in early September, the provincial government signed deals with 26 world famous enterprises including Merlin Entertainments Group, Viacom Inc, Avis Budget Group, Star Cruises, Ikea Group, Mapletree Investments, Globevisa Group and Boehringer Ingelheim, covering the fields such as tourism, culture, medical and healthcare.
(China Daily 11/05/2018 page24)
Today's Top News
Editor's picks
Most Viewed