Wallonia increasingly popular among Chinese businesses, tourists
With its huge advantages in logistics and transportation, tourism and information technology, Belgium's Wallonia region aspires to attract more Chinese investors and travelers, according to a key expert from the area.
Pascale Delcomminette, CEO of the Wallonia Export-Investment Agency, recently told China Daily that Wallonia, a gateway to the European market, is well-positioned to develop its already booming logistics and transportation industry.
Close business cooperation with Wallonia in cargo, storage and transport facilitates the operation and expansion of Chinese businesses in Belgium - which is located at the heart of Europe - and the European Union.
Though it is an inland area, Wallonia is also closely linked via an extensive waterway network with seaports such as Antwerp and Rotterdam. Combined, they make Wallonia one of the most connected places in Europe.
Wallonia, which boasts a business-friendly environment, aspires to make itself a distribution center for the continent.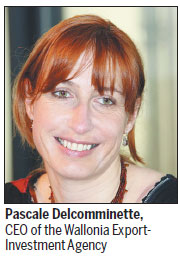 At the same time, Chinese companies are seeking to expand into the European market and are looking for an ideal location to store their goods and distribute them to surrounding areas, observers said.
With its supportive policies, Wallonia has emerged as a hot spot for Chinese companies to invest in and build their regional distribution centers.
Statistics show that Chinese investment in Wallonia reached 43 million euros ($49.7 million) in 2017, a figure that is expected to grow rapidly in the years to come.
The two major airports, Brussels South Charleroi Airport and Liege Airport, are the main means of transport for visitors from across the world.
The Brussels South Charleroi Airport ofers low-budget passenger tickets, and the Liege Airport operates tourist-oriented chartered flights. Combined, they make the long journey from China to Wallonia lighthearted, Delcomminette said.
"Business partnership, and more importantly, intensified people-to-people exchanges, have made us a good option for sightseeing for Chinese tourists," Delcomminette added.
"We have learned the Chinese culture through our communications with our Chinese partners, which comes in handy when we play host to our Chinese guests."
Blessed with fine scenery and an inviting culture, Wallonia is poised to be a popular destination for tourists across the world.
Aside from doing business, more Chinese are considering Wallonia as a destination for holiday vacations.
As the Chinese people grow increasingly affluent, their interest in overseas traveling has become more fervent. Wallonia's picturesque landscape and rich cultural heritage is appealing to Chinese tourists.
The region's hilly countryside views and scenic and peaceful lakes enable tourists to stay away from the hustle and bustle of city life and to embrace nature.
The art streets, with music and fine snacks, are what many Chinese tourists have a hard time saying goodbye to when they have to wrap up their trips.
One of the best tourist destinations in the region is Ardennes, south of the Meuse River. Apart from its rich cultural heritage, Ardennes is famed for its outdoor sports and hot springs at spas, which help visitors relax after a long day's activities.
"Sufice it to say that we are offering better travel experiences to Chinese tourists thanks to our knowledge about the Chinese way of living."
Wallonia is willing to play a part and help Chinese tech companies to thrive in Europe, by advocating a win-win approach for both sides, Delcomminette said.
China has emerged as a leader in the IT industry, especially with its booming e-commerce. Big Chinese internet corporations are seeking to tap into the highly competitive European market.
Wallonia leaders are confident that their region can be a center for Chinese tech companies seeking alliances in order to localize their business and secure steady growth, she said.
Chinese businesses, such as Cainiao, e-commerce giant Alibaba's logistics arm, and new energy vehicle maker Thunder Power, have already made headway in their efforts to expand to the European market through Wallonia.
Cainiao has led the way in expanding to Europe by investing in Wallonia, taking full advantage of the infrastructure and favorable policies the region has offered.
Thunder Power has chosen Wallonia as the site of its European branch and its first factory outside China. With growing interest in investing in this region, the company has also become a model for energy saving and environmental protection.
"Another big investment is the China-Belgium Technology Center, a partnership between companies such as the United Investment in Hubei province and us," Delcomminette said. "It is the first of its kind built outside China."
Chinese businesses bring with them the latest technologies, help upgrade local industries and improve the local lifestyle. As Chinese companies are viewed as a positive influence on the local business community, their operations are welcomed, according to Delcomminette.
"The Chinese business as a whole infuses dynamism and expertise to our region. They help local business grow faster. China's e-commerce is changing the way of living and consuming for local people, and we appreciate that," she added.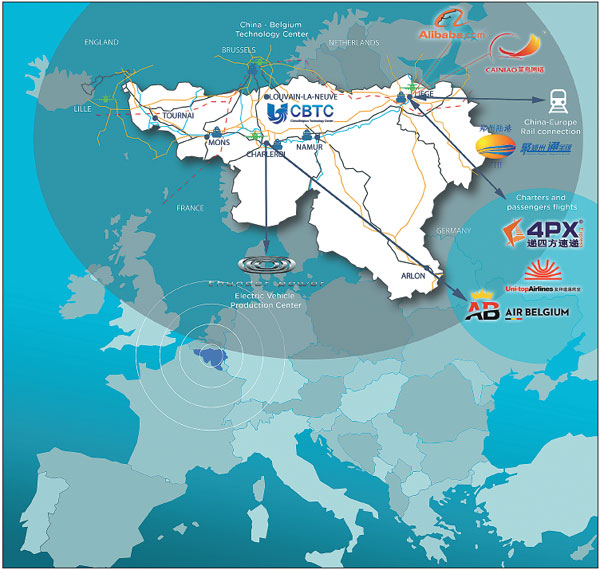 The French-speaking region of Wallonia in southern Belgium boasts a prime location at the heart of Europe, giving it an ease in transporting goods, people and data - three major aspects in its cooperation with China. Provided to China Daily
(China Daily 10/19/2018 page15)
Today's Top News
Editor's picks
Most Viewed