Military-civilian integration a necessary step
Against the backdrop of the intensification and upgrading of competition among major countries, combining efforts to make the country prosperous with efforts to make the military strong, and making overall plans for development and security are essential to consolidate China's economic and national strength.
The flow of information, technologies, talents, capital, facilities, services and other elements between the military and local governments, gives emphasis to joint development and the sharing of military and civilian facilities to improve the efficiency of innovation in military technologies and promote the high-quality development of the economy.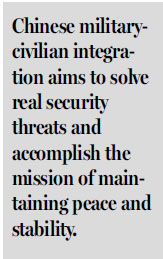 Historical experience shows the greater the disparity among major powers' military strengths, the more likely confrontation, conflict and war are to occur. The United States launched a military-civilian integration strategy in 1994, with the aim of combining the foundation of its national defense technology industry with the larger foundation of civilian technologies into a united foundation for the national technology industry to support its hegemony. Despite China's military modernization efforts so far, the disparity in military strength between China and the US is still obvious. Nevertheless, the US has defined China as a rival and formed alliances with surrounding countries to contain and pressure China, leading to high risk of military conflict in certain areas.

Today's Top News
Editor's picks
Most Viewed