Chinese innovators explore abroad, impress on the international stage
Mass innovation and entrepreneurship has facilitated greater opening-up and created startups which are going global, according to an official at Beijing's science hub Zhongguancun.
Companies from the capital are innovating on the international stage and entrepreneurship has injected greater impetus into their businesses, said Xu Jian, director of a high-tech industry promotion center at Zhongguancun Science Park, at the opening of the 2018 National Mass Innovation and Entrepreneurship Week in Beijing on Oct 8.
Technology transfer institutions set up in colleges and universities, including Tsinghua University and Peking University, are growing more professional in terms of services and established operations, Xu said.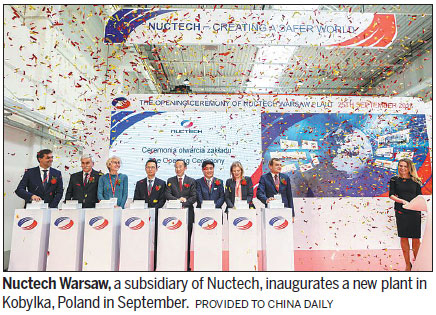 Nuctech, one such spinoff from Tsinghua University, was founded in 1997 and is a provider of advanced security and inspection solutions the world over.
The company displayed its latest products, which include a whole body millimeter-wave scanner, during the weeklong event.
The system is capable of detecting objects concealed underneath clothing and provides a safe and radiation-free fast check, said Wang Pu, deputy director of the technological support department at Nuctech.
Using artificial intelligence, the machine can also flag up contraband including ceramics, knives, ivory and illegal drugs, Wang said.
To date, Nuctech is one of only four companies in the world to own the rights to millimeter-wave technology independently, Wang said.
In September, the system was approved by the Civil Aviation Administration of China and is the only one of its kind in China to have the highest level of certification for new body inspection devices, Wang said.
Developing the core technology independently provides guarantees for the country's security, Wang said.
In the past, most of China's products mainly had advantages in price and quantity, Wang said.
"With advanced technology, now we have the strength to compete with global top performers and to show the ability of our intelligent manufacturing."
This year, the device was put into trial operation at London Luton Airport in the United Kingdom and Barcelona's El Prat Airport, and it will be put into trial operation in domestic airports in October, Wang said.
Last month, Nuctech Warsaw, a branch of Nuctech, opened its new office and production plant in Kobylka, Poland, part of its push to expand in the overseas market.
The new plant is equipped with modern assembly stations, offices and space for research and development.
The company said Nuctech Warsaw will be its largest security equipment production center after the construction of the new plant.
With great efforts made over the past 14 years, Nuctech Warsaw has expanded its footprint from Poland to the European Union and even African countries, making it a comprehensive branch and business platform for Nuctech in Europe, said Chen Zhiqiang, president of Nuctech.
"Technological innovation is always our focus and drives our growth. We work with European technical experts to apply innovative technologies to our products," he added.
Nuctech will work with Polish universities and research institutes to develop advanced and intelligent products to meet higher requirements, Chen said.
(China Daily 10/16/2018 page7)
Today's Top News
Editor's picks
Most Viewed