US' tariffs have no legitimacy
US President Donald Trump on Tuesday repeated his threat to slap tariffs on an additional $267 billion of Chinese imports if Beijing retaliates for the recent levies the United States has imposed in an escalating trade war.
Now more than 50 percent of China's exports to the United States and almost 85 percent of US exports to China have been hit by tit-for-tat tariffs. This is the biggest trade dispute in history in terms of the absolute volume.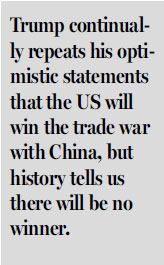 Negotiation is a process of giving and taking, which takes time. But Trump's pace is too fast, he hasn't given enough time for negotiations. Trump imposed punitive tariffs on Chinese goods worth $34 billion in July, and then on another $16 billion worth of Chinese imports in August. The 10 percent tax on $200 billion of Chinese imports took effect on Sept 24 and the tax will rise to 25 percent in three months. China has responded each time with reciprocal tariffs on US goods.

Today's Top News
Editor's picks
Most Viewed