Sephora seeks to enrapture Asian buyers
International cosmetics and speciality beauty giant says it is determined to be at forefront of the retail revolution in China
Sephora, the world's leading cosmetics and specialty beauty retailer, has opened its first concept store in Asia which it says has new features that offer a "unique omni-channel experience" in a vibrant contemporary space.
The Paris-headquartered group, owned by global luxury goods giant LVMH, opened its first concept store in Asia on Sept 21, unveiling a selection of cosmetics, skincare and perfume at the Brilliance Shimao International Plaza in Shanghai's East Nanjing Road.
The French chain of cosmetics stores, which has hundreds of locations in North America, said in a statement that the new destination offers customers fresh ways to experiment with the latest products and technologies in an intimate space elevated by carefully styled design features.
The company said its Asian New Concept Store is designed with integrated technological features that give visitors the chance to experiment with its iconic selection of beauty products.
Sephora said the customer experience at the store will be enhanced by its careful selection of products, ensuring customers benefit from the latest trends. The company has chosen close to 100 classic, international and exclusive brands, which it says are offered in a fresh and accessible format that encourages customers to play and explore at "discovery tables" and "magic mirrors".
Beauty experts are on hand to instruct, inspire and let customers discover products with the aid of innovative and immersive digital experiences. The company said the store is designed to "exceed customer expectations", providing a level of freedom to touch and try products unique to Sephora.
"The Asian New Concept Store emphasizes Sephora's commitment to surprising and delighting our customers better than anybody else," said Benjamin Vuchot, president of Sephora Asia. "The store offers the best of both the online and offline world - great interactive technologies and wonderful personal service with amazing products to touch and try."
According to the company's corporate website, when founder Dominique Mandonnaud launched his first perfumery in 1969, perfume and cosmetics were hidden behind counters, guarded by intimidating sales reps. Mandonnaud revolutionized the way beauty was sold, taking products from behind the counters and placing them front and center.
Since the original Paris launch, the company says it has changed the way people experience beauty, using disruptive ideas and new technologies to promote creativity and diversity across its ever-growing community of stores in 34 countries and online.
Sephora said its Asian New Concept Store underpins the brand's belief that customers can discover their own unique beauty power by experimenting freely with products and technologies that enable them to find what works best for them, with support from professional beauty experts.
"We are very excited to launch our first Asian concept store in Shanghai," said Chris de Lapuente, Sephora's Global CEO. "Sephora is determined to be in the forefront of the retail revolution in China and we are committed to offering an omnichannel experience that is second to none."
Sephora said its new concept store revolutionizes the traditional offline-to-online model by bringing the two together in one space.
The store is introducing "interactive e-commerce walls" and a "virtual artist" in collaboration with Chinese technology company Meitu Inc. Sephora said its concept store integrates its website with the in-store experience, forming an online and offline loop that fuses technology and beauty retailing. The store's beauty studio will offer complimentary makeovers and its skincare bar will allow customers to find the products that best suit their complexion.
The opening ceremony for the Asian New Concept Store saw the release of the new global beauty trends report for this year's fall and winter season. The company said it is sharing trends in beauty and makeup with its customers, to support their appetite for the latest and most innovative ways to express their beauty power.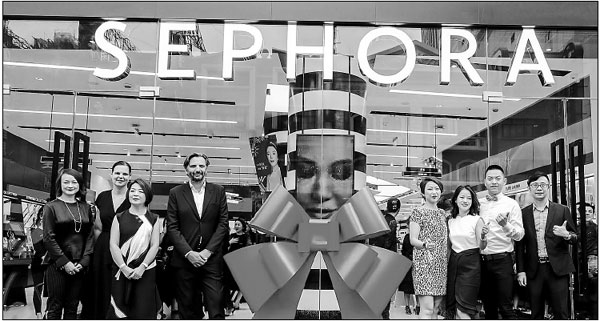 Sephora opens its first concept store in Asia on Sept 21 in Shanghai. Photos provided to China Daily

Left: Sephora recently announces Huang Zitao, a popular Chinese star, its brand ambassador. Right: A beauty studio of Sephora.
(China Daily 09/27/2018 page17)
Today's Top News
Editor's picks
Most Viewed