Upgraded facilities come of age as leading aviation hub
Businessman Cui Xinyu has witnessed the growth of Guangzhou Baiyun International Airport, the transition from being a worthy domestic facility to its approach path towards becoming a fully fledged international aviation hub.
As chairman and general manager of Wilmar (China) Oleo Co, a wholly-own subsidiary of Singapore-listed Wilmar International Limited, Cui traveled on more than 120 flights last year, flying to major cities in China and such foreign destinations as Singapore, Indonesia, Japan, the United States and Europe.
"The airport in Guangzhou has been equipped with one of the best hardware facilities that I have seen, especially the auto-check and self-help clearance system for international flights," Cui said.
With the application of chip-sensing technologies, travelers need not turn the pages of their passports for examination, which is much more convenient than the scanning verification system still used in many other airports, he told China Daily.
Baiyun airport first went into use in the 1930s and moved to its current site, from the Baiyun district of Guangzhou, in 2004. The airport's Terminal 2, one of the largest single terminal buildings on the Chinese mainland, opened its doors on April 26.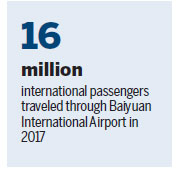 As the parent company's southern operational headquarters is located in Guangzhou, Cui said he and his colleagues frequently depart from Guangzhou as the domestic and international flights could fully satisfy their business traveling requirements.
Cui observed that the shopping and leisure environment of Terminal 2 has been much improved from Terminal 1, an attractive feature for transferring passengers.
"Apart from the international brands such as Starbucks and KFC, Terminal 2 catering services also include local restaurants - highlighting Guangzhou's position as a city of gastronomy." Cui noted.
Having lived and worked in Guangzhou for 22 years, he said the city had upgraded the infrastructure and developed its local aviation industry in its own way, reflecting its own historical and cultural background and the needs of its booming economy.
The Guangdong-Hong Kong-Macao Greater Bay Area, one of the most economically dynamic regions in China - formed by Hong Kong, Macao and nine cities in Guangdong, where several airports have been located - needs coordination by the central government to diversify their functions and make them complementary to each other, Cui suggested.
"Given its historical and present significance, Guangzhou can take the leading role to develop the aviation hub and lead the others to grow together," he said.
The numbers of international and transfer passengers - one metric to measure the globalization of an airport - have increased markedly.
Statistics from the airport show that it served nearly 16 million international passengers last year, representing an increase of 17.6 percent year-on-year.
The numbers also showed that transit passengers rose 18.6 percent year-on-year to nearly 8.2 million in 2017.
Guangzhou airport has replaced Hong Kong and Dubai to become the largest transit point for passengers traveling from European and African countries to Australia, said Deng Jianqing, deputy director of the Guangzhou Airport Economic Zone Administrative Committee.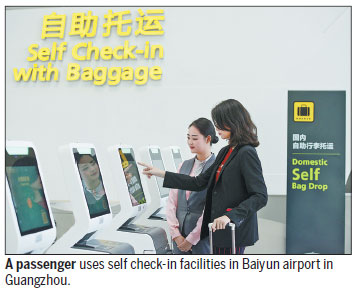 (China Daily 09/14/2018 page19)
Today's Top News
Editor's picks
Most Viewed