Borgward focuses on safety with autonomous driving prototype
Borgward Group showcased its artificial intelligence-based technology for autonomous driving last week in the United States, reinforcing its commitment to the safety that is the foundation of the Chinese carmaker's development strategy.
The platform that Zhou Xing, director of Borgward's artificial intelligence for autonomous driving, unveiled at the O'Reilly AI Conference in San Francisco focuses on avoiding collisions by predicting risky behaviors and integrating machine learning back into product development.
Currently a prototype, it has three unique risk features - automatic car horn operation, advanced risky behavior identification and labeling, and the marking out of high-risk physical areas.
The reason that Borgward has decided to take a different approach is that road testing alone cannot generate enough data to predict human error or other risks at a rate sufficient enough to ensure a reliable response, said Xing, who is also head of Borgward's research and development facility in Sunnyvale, California.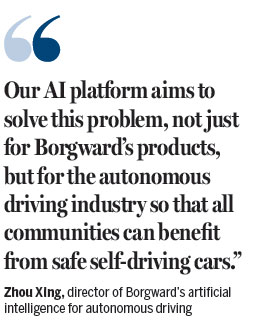 He gave the example of Waymo, Google's autonomous driving unit, which has gleaned data from 8 million miles of expensive and time-consuming road testing over the years but it covers only a very small fraction of real traffic situations.
"No autonomous automaker has been able to deliver a safe and reliable product. Our AI platform aims to solve this problem, not just for Borgward's products, but for the autonomous driving industry so that all communities can benefit from safe self-driving cars."
The platform is to be incorporated into Borgward production cars within three years. The carmaker is planning to test its technology in the US starting from 2019.
Xing said Borgward's focus is not to produce cars according to the framework of Level 0 to Level 5 defined by the Society of Automotive Engineers.
"We have a schedule in terms of autonomous driving but our primary concern is the technology's incremental use in our cars to enhance safety for our drivers," he said.
Borgward does not plan to keep the technology to itself either but would like to make it available to other carmakers, in a long-term effort to create a global industry standard in safety testing for all autonomous cars.
With its R&D facility in Silicon Valley, the carmaker is to make inroads into the US market as part of its global expansion strategy.
"Our US R&D center provides a crucial gateway for the brand's entry into the North American market in 2021," said Jason Yang, president and CEO of Borgward in a statement.
"This expansion also highlights the speed and scale of our development model in having high-quality, high-value production cars available globally, and leveraging the venerable Borgward brand, which has a rich legacy of safety."
Starting from 2016, Borgward has been exporting its vehicles, and they are especially popular in Germany, where the brand first began in 1919, and some countries in the Middle East. "If things go as planned, we will introduce our cars into the US in around three years," said Huo Jing, head of Borgward's public relations.
"We will start the legal procedures for our sales and marketing in the US when we ship a dozen of cars over for autonomous driving testing," she said.
Huo said entering the US market will not only boost the brand's reputation but will also initiate a virtuous cycle with its R&D efforts in the country.
She expects Borgward models will be competitive in the US market because they, which have passed the stringent quality tests in the European Union, have been known for good value for money.
But Huo added that the carmaker currently does not have a plan to build production facilities in the US as it will not make sense economically considering the volume.
Borgward has a plant in Beijing that features flexible and intelligent production, enabling the company to dramatically scale up and compete on the global stage.
Occupying an area of 1.10 million square meters, the plant is capable of producing both gasoline cars and electric models and has a maximum annual capacity of 100,000 units, which will increase to 360,000 units in its second phase.
Since its establishment in 2015, Borgward has manufactured more than 100,000 cars. Its lineup is composed of five models, all of which are SUVs, with the latest additions being the electric BXi7 and the gasoline-powered GT BX6. Huo said Borgward plans to launch a small gasoline SUV later this year and two electric car models in 2019. It will start to offer sedans within three years.
lifusheng@chinadaily.com.cn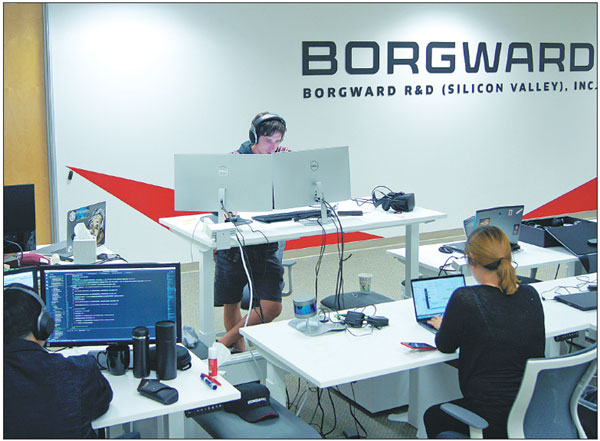 Staff members work at Borgward's research and development facility in Sunnyvale, California. Photos provided to China Daily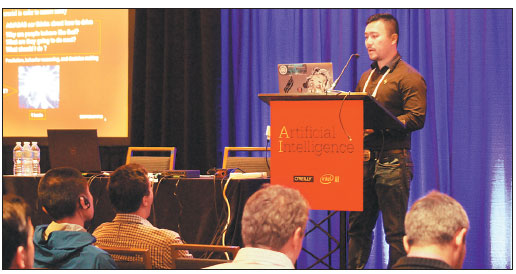 Zhou Xing, director of Borgward's artificial intelligence for autonomous driving, shares his views on AI-based technology at the O'Reilly AI Conference in San Francisco.
(China Daily 09/14/2018 page15)
Today's Top News
Editor's picks
Most Viewed