Resistance to US unilateralism has spread across the world
US President Donald Trump was furious to learn, courtesy the Sept 5 op-ed in The New York Times, that a force of resistance exists within his administration where some officials have vowed to thwart part of his agenda and his worst inclinations.
In the days that followed, Trump has lashed out at the anonymous author, labeling his or her act as "treason", and tried to dig him/her out of his administration, including pressuring the Times to reveal the author's identity. Senior White House officials have rushed to deny they penned the article.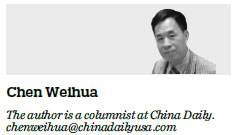 While it's unclear whether Trump will be able to identify the author, he should not be surprised that there are people within his administration who are opposed to his policies.

Today's Top News
Editor's picks
Most Viewed