Afghanistan's Chaplin aims to make people smile
KABUL - Afghanistan's Charlie Chaplin says he has witnessed suicide attacks, explosions and threats from extremist groups, but is determined to waddle and bumble to fulfill the primary goal of his life.
"It is very simple, I want to give Afghans a reason to smile," said Karim Asir, a stand-up comedian who performs across the capital Kabul in Chaplin's trademark oversized shoes, baggy pants, cane and black bowler hat.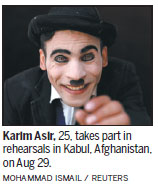 Asir, 25, said Chaplin impersonators are found all over the world helping people forget their grief by making them laugh, and he does the same.

Today's Top News
Editor's picks
Most Viewed