Common interests drive Sino-Russian ties
For Russian President Vladimir Putin, bringing together in Russia's Far East the leaders of China, Japan, the Republic of Korea, and Mongolia is certainly a major diplomatic success. And that President Xi Jinping is also taking part - for the first time - in the annual event indicates the growing togetherness of Beijing and Moscow on regional and global platforms. As major-country competition has re-emerged, and transformed into rivalry, even confrontation, Russia and China have been discovering more common ground.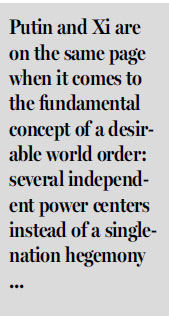 Putin and Xi are on the same page when it comes to the fundamental concept of a desirable world order: several independent power centers instead of a single-nation hegemony; protection of state sovereignty from foreign political and ideological influence; and full equality in relations among the major powers, including the United States. Chinese and Russian strategies and tactics in foreign affairs are as different as their cultures, but now that the liberal democratic order led and dominated by the US has past its prime, the two neighbors' efforts are pretty much aligned. As global developments quicken their pace, it makes sense for Xi and Putin to confer more frequently.
There are other reasons as well. The Belt and Road Initiative, which Xi proposed five years ago, has marked a departure in China's foreign policy toward much closer economic, political and strategic engagement with other countries, not least on Eurasian continent. Moscow had its own measure of hopes and fears related to the Belt and Road Initiative before it came to a realistic assessment of Beijing's new approach and its likely impact on Russia. The Sino-Russian economic engagement has broken new ground with Moscow giving Beijing access to some of Siberia's energy riches, and promising some infrastructure projects.

Today's Top News
Editor's picks
Most Viewed