Satellite network pinpoints sources of pollution
China will use a grid network and remote satellite sensing to better monitor and control air pollution, according to the country's top environmental authority.
The network will monitor concentrations of PM2.5 - polluting particles with a diameter of 2.5 micrometers or less - in the 28 major cities in the Beijing-Tianjin-Hebei cluster by next month, the Ministry of Ecology and Environment announced recently.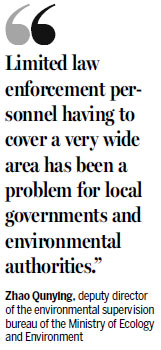 The region has been divided into 36,793 units, each measuring 9 square kilometers. With the help of remote sensing, 3,600 of the units with relatively high PM2.5 levels have been selected as key monitoring areas.

Today's Top News
Editor's picks
Most Viewed