Rental app firm vows to monitor air in apartments
Ziroom, the apartment rental app for smartphones that has been caught up in a formaldehyde poisoning scandal, said on Tuesday that newly refurbished apartments will be left vacant for at least 30 days and pass indoor air testing before being listed on the market beginning on Sept 24.
The creators of the app - which helps to arrange long-term rentals of furnished apartments - are taking measures to assuage public fears about unhealthy levels of toxic chemicals in listed properties, including formaldehyde, a potential carcinogen.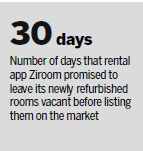 In an announcement, app developers recognized the need to press for a "systemic solution" to substandard indoor air quality.

Today's Top News
Editor's picks
Most Viewed