Dozens killed in Yemen airstrikes
ADEN, Yemen - Saudi-led coalition airstrikes on Thursday killed dozens of people, including children traveling on a bus through a market, in Yemen's Saada province, a Yemeni health official and the International Committee of the Red Cross said.
The Western-backed alliance fighting the Houthi militants in Yemen said in a statement that the airstrikes targeted missile launchers used to attack the southern Saudi city of Jizan on Wednesday, killing a Yemeni civilian there.
It accused the Houthis of using children as human shields and said the strikes were carried out in accordance with international humanitarian law.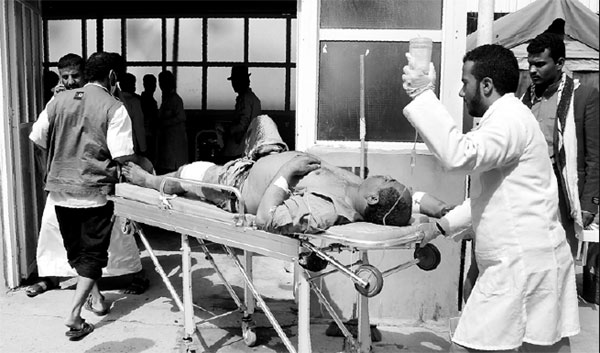 A man is taken to hospital after he was wounded in an airstrike in Saada province in Yemen on Thursday. Agence France-Presse
Houthi spokesman Mohammed Abdul-Salam said the coalition showed "clear disregard for civilian life" as the attack had targeted a crowded public place in the city.
The ICRC said a strike hit the bus driving children in Dahyan market, in northern Saada.
"Our shops were open and shoppers were walking around as usual. All of those who died were residents, children and shop owners," said witness Moussa Abdullah, who was being treated in hospital for wounds.
The ICRC said on its Twitter account that its medical team at the ICRC-supported hospital in Saada had received the bodies of 29 children, all under 15 years old. The hospital also received 48 wounded people, among them 30 children.
That was the toll at just one hospital.
It was unclear how many of the dead in total were children and how many airstrikes were carried out in the area, in northern Yemen, near the border with Saudi Arabia.
Yemen's rebel-run Al Masirah TV said the death toll was 50, citing rebel Health Ministry figures.
White plastic body bags filled the floor of a room in the ICRC-supported hospital.
Injured children, bloodied, bandaged and screaming, lay on stretchers as doctors treated them, friends and relatives having carried some of them in their arms to be treated.
Saudi Arabia and Sunni Muslim allies intervened in Yemen's war in 2015 against the Houthis, who control the most populous areas of Yemen, including the capital Sanaa, and drove the government into exile in 2014.
The United States and other Western powers provide arms and intelligence to the alliance, and human rights groups have criticized them over coalition airstrikes that have killed hundreds of civilians at hospitals, schools and markets.
UN Secretary-General Antonio Guterres on Thursday condemned the airstrike and called for an "independent and prompt investigation". Houthi group welcomed his call for probe.
The US State Department on Thursday also urged to conduct a thorough and transparent investigation.
The Yemen war has killed more than 10,000 people, displaced more than 2 million and driven the nation to the verge of famine, according to the UN.
Reuters - AP - Xinhua
(China Daily 08/11/2018 page8)
Today's Top News
Editor's picks
Most Viewed