Conciliatory steps at Asian Games
SEOUL - The Democratic People's Republic of Korea and the Republic of Korea will take their reconciliation steps to the Asian Games in Jakarta and Palembang, Indonesia, where they will jointly march in the opening ceremony and field combined teams in basketball, rowing and canoeing.
"Sports have played the role of peacemaker between us," said Kim Seong-jo, vice-chairman of the ROK Olympic committee and the country's chef de mission at the Asian Games.
"If the combined teams put out good performances and win medals, that would be putting the cherry on the top."
The DPRK and the ROK have used sports diplomacy this year in a bid to decrease tension.
Seoul considers goodwill gestures as crucial to keep the positive atmosphere alive for what could become an attempt to persuade Pyongyang to give up its nuclear and missile programs.
At the opening ceremony in Jakarta, athletes from the DPRK and the ROK will parade together under the flag featuring a blue map that symbolized a unified Korean Peninsula. It will be virtual repeat of the joint march during February's Winter Olympics in the ROK ski resort of Pyeongchang, minus the gloves, parkas and fur hats.
Pyongyang sent hundreds of athletes, artists and officials to the Pyeongchang Games. The two neighbors also fielded their first combined Olympic team in women's ice hockey, which drew passionate support from crowds despite losing all five of its games with a combined score of 28-2.
Women's basketball
At the Asian Games, they will be expected to deliver more than just feel-good stories. There's pressure for the investment to yield gold. A group of 34 DPRK athletes, coaches and officials have been in the ROK since last month for combined teams in women's basketball and the men's and women's events in rowing and canoeing.
Coach Lee Moon-kyu, who has retained a core of ROK players who won gold at the 2014 Asian Games at home in Incheon, got a first-hand look at DPRK players during exhibitions in Pyongyang in early July. Lee later picked three DPRK players for the Asian Games squad.
The Koreans will face Chinese Taipei, Indonesia, Kazakhstan and India in their preliminary group.
If a combined team wins gold, athletes on the podium will hear the traditional folk song of Arirang, used in both countries as an unofficial anthem for peace, instead of their respective national anthems.
Associated Press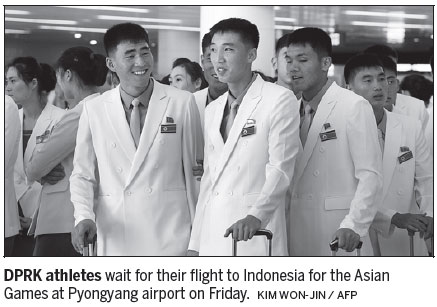 (China Daily 08/11/2018 page8)
Today's Top News
Editor's picks
Most Viewed