China's economy can withstand tariff war
The Donald Trump administration announced on Tuesday that it will make good on its earlier threat to impose 25 percent tariffs on $16 billion worth of Chinese imports on Aug 23.
Of course, the Trump administration's move will intensify the US-China trade conflict, increasing the external risk to the Chinese economy. But apart from coping with the challenges posed by the rising US tariffs on more Chinese goods, China could also turn those challenges into opportunities, by making optimum use of its huge domestic market, which in turn will increase its influence in the global economy.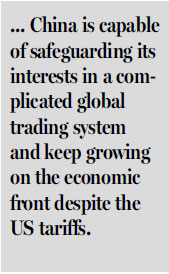 The expanding domestic market has made great contributions to China's economic development despite being overwhelmed by the outstanding achievements of foreign trade, which made China the world's largest exporter of goods in 2009.

Today's Top News
Editor's picks
Most Viewed