Manafort had not declared $16.5m in income, court told
ALEXANDRIA, Virginia - President Donald Trump's former campaign chairman Paul Manafort, who is on trial on tax and bank fraud charges, had $16.5 million in unreported taxable business income between 2010 and 2014, a US Internal Revenue Service agent testified on Wednesday.
IRS agent Michael Welch told a jury that Manafort's unreported income includes foreign wire transfers to US vendors like landscapers and clothiers, wire transfers to buy property, and income improperly reclassified as loans.
Welch said he arrived at the $16.5 million figure based on an accounting method used by Manafort.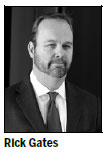 During his review, he said, he discovered that many of the foreign wire transfers did not appear on general ledgers for Manafort's political consultancy and therefore, "I was not able to trace it into the tax return".
Credibility
Welch's testimony came as prosecutors sought to refocus the courtroom's attention on Manafort's alleged financial crimes after his defense attorneys spent hours trying to undermine the credibility of their star witness, former Manafort business partner Rick Gates.
Gates has been the government's star witness in Manafort's financial fraud trial, testifying how, at the behest of his longtime boss, he helped conceal millions of dollars in foreign income and submitted fake mortgage and tax documents.
Gates ended three days of testimony earlier on Wednesday, the trial's seventh day, after admitting he lied, stole money and cheated on his wife, as lawyers for Manafort attacked his character.
Defense lawyers saw an opening to undermine his testimony by painting him as liar and a philanderer, getting him to admit to an extramarital affair and reminding jurors how he had lied to special counsel Robert Mueller's team while working out a plea deal for himself.
The testimony, stretching across three days, created an extraordinary courtroom showdown between the two former Trump campaign aides who were indicted together by Mueller but who have since opted for radically different strategies: Manafort is the lone US citizen charged by Mueller to opt for trial, whereas Gates pleaded guilty and agreed to cooperate by testifying against his former boss.
After Gates left the stand on Wednesday, the jury heard from Morgan Magionos, a forensic accountant with the FBI.
She said she had identified 31 accounts located in Cyprus, the Grenadines and the United Kingdom belonging to Manafort. She explained how she traced payments for luxury items back to those hidden bank accounts, describing documents from banks and corporations and how the corporate entities and offshore accounts were linked to Manafort.
A conviction of Manafort would undermine efforts by Trump and some Republican lawmakers to paint Mueller's inquiry as a political witch hunt, while an acquittal would be a setback for the special counsel.
Reuters - Ap
(China Daily 08/10/2018 page11)
Today's Top News
Editor's picks
Most Viewed