IP scene
Beijing
Forestry office releases new rules
The National Forestry and Grassland Administration has rolled out a set of regulations concerning the release of administrative enforcement information, which began to take effect on Aug 1 and will be valid until July 31, 2023. Investigations conducted by the administration, which involve fake and inferior tree seedlings and infringements upon new plant varieties, are subject to the regulations. The rules also standardize the information that is released to the public, including names of those caught infringing them.
The Intellectual Property Office
Shanghai
100-day activity for rights awareness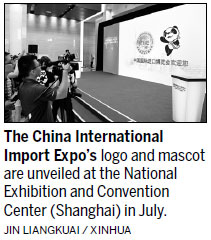 Local authorities launched a 100-day special operation on Aug 1 to create an intellectual property-friendly environment. The activity coincides with the China International Import Expo, which is scheduled to open on Nov 5. Calling for a multichannel resolution system to shield rights owners from infringement, the event will cover judicial protection, administrative enforcement, arbitration and conciliation, and consultancy services. Various means of protection, which involve courts, the customs and government agencies across the city, will be employed, according to local officials.
The Shanghai Intellectual Property Administration
Ningxia
Plant varieties on show at expo
More than 32,000 new plant varieties developed by 193 research institutes and companies from China and abroad were displayed recently at an agricultural expo in Yinchuan, the capital of the Ningxia Hui autonomous region in Northwest China. Designated by the former Ministry of Agriculture - renamed as the Ministry of Agriculture and Rural Affairs - as a key vegetable plantation area, Ningxia is home to a batch of high-quality agro-product brands featuring geographical indications - which prove the origins of the products - with 70 percent of them sold outside of Ningxia.
People's Daily
Guangdong
SIPO approves protection center
An intellectual property protection center in Shenzhen was recently approved by the State Intellectual Property Office and is scheduled to open later this year. Focusing on new energy and the internet, the center will establish a quick protection system, where the period for granting a utility model patent will be reduced to one month, and 15 days for an industrial design patent. It will also streamline procedures for handling complaints about IP infringements and counterfeits and offer companies services, such as IP-related monitoring and early warning, conciliation and professional guidance.
Dayoo.com
Hubei
Wuhan made national IP pilot city
Wuhan recently became one of the pilot cities for developing the national intellectual property operation service system and will receive 200 million yuan ($29.2 million) from the central government in three years. The city is required to set up a system in that time, allowing more than 1,000 small and micro enterprises to enjoy IP trusteeship services and access to more than five professional and comprehensive IP operation service organizations. Other pilot cities include Nanjing, Hangzhou, Guangzhou and Shenzhen.
Hubei Daily
Anhui
Trademark filings up by 32.9%
The province saw 97,000 trademark filings and 55,000 newly registered trademarks in the first half of this year. Valid registered trademarks in the province reached about 353,000 by the end of June, a year-on-year rise of 32.9 percent and ranking Anhui the fourth nationwide. Local authorities have encouraged the internationalization of trademarks and brands. A total of 48 trademark applications were filed via the Madrid system from January to June. During the same period, the authorities helped companies to collateralize 395 trademarks and achieve financing worth about 505.34 million yuan ($73.9 million).
Anhui Daily
(China Daily 08/09/2018 page17)
Today's Top News
Editor's picks
Most Viewed