Auto industry pleads against new tariff threats on vehicle imports
Parties hope to diffuse trade disputes next week in US
WASHINGTON - The auto industry pleaded recently with United States President Donald Trump's administration to reject tariffs on vehicle imports, which they say could cripple domestic manufacturing and cause job losses.
The pleas came as the European Union said it hoped to defuse the trade dispute next week in Washington but was preparing to retaliate should those efforts fail.
Citing national security concerns, the Trump administration in May called for an investigation into auto imports which could lead to tariffs of up to 25 percent on foreign vehicles and parts.
Economists warn that step, coming on top of a host of other tariffs and retaliation from US trading partners, could harm the global economy.
The overwhelming majority of industry representatives appearing Thursday at a Commerce Department hearing said the tariffs would cause job losses, damage the economy, make the industry less competitive and price many US citizens out of the auto market.
Former Missouri governor Matt Blunt, head of the American Automotive Policy Council, which represents the big three US automakers Ford, General Motors and Fiat Chrysler, said the domestic industry was "very concerned" tariffs would undermine benefits from December's sweeping corporate tax cuts.
He said, "There is no evidence that automotive imports pose a threat to our national security."
Since the spring, Trump has launched trade wars with European, Asian and North American trading partners, showing particular disdain for lopsided tariffs he said opened the US market to imported autos, but kept US vehicles out of foreign markets.
The Commerce Department has been collecting public comments on the proposal, which have been overwhelmingly opposed, and is not expected to present its findings to the White House for about two months.
Trump also invoked the national security justification to impose steep tariffs on steel and aluminum imports, angering key allies.
The US imported $212 billion in autos last year, $151 billion more than it exported, a deficit that has risen 29 percent since 2013, according to Commerce Department figures.
Despite overwhelming opposition to the auto duties, Commerce Secretary Wilbur Ross said the administration was not obliged to heed such views.
"This is not a plebiscite," he told CNBC early Thursday, adding that he was not surprised the opposing voices dominate since those affected "are the ones who will likely give testimony".
Meanwhile in Brussels, EU Trade Commissioner Cecelia Malmstrom said the EU would "think out of the box" in a bid to find a solution, but she warned officials were preparing to respond with what she called "rebalancing measures" should the US follow through with the auto tariffs. An EU source told Agence France-Presse the retaliatory levies could be worth 10 billion euros ($11.5 billion).
Next week, Malmstrom will accompany European Commission chief Jean-Claude Juncker to Washington, as he tries to persuade Trump to drop steel and aluminum tariffs and avoid duties on cars.
Several participants at the hearing in Washington said the proposed tariffs would weaken domestic investment, notably in the efforts to develop technologies such as electric and autonomous vehicles.
"Imports help drive innovation. They help drive production," said Linda Dempsey of the National Association of Manufacturers, a major Washington lobby group.
"They also help us keep higher value manufacturing here."
Peter Welch, head of the National Automobile Dealers Association, said industry research showed the measures would cause 715,000 job losses. In addition, the tariffs could slice nearly $60 billion off GDP, reduce sales by two million units and raise monthly auto loan payments.
"Our customers are already strapped to make those payments," he said.
Agence France-Presse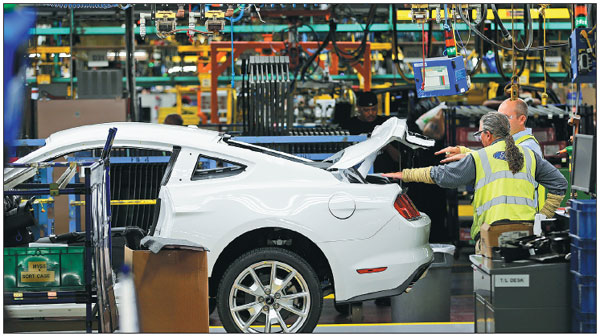 Employees inspect Ford Motor's Mustang on the production line at the company's Flat Rock assembly plant in Michigan, the United States. Jeff Kowalsky / Bloomberg 
(China Daily 07/23/2018 page19)
Today's Top News
Editor's picks
Most Viewed