BMW sponsors soccer summer camp for kids left behind, migrants
Making lives a little brighter for left-behind and migrant children, BMW has set up a football tournament summer camp, part of its effort to be a responsible corporate citizen of Chinese society, said Johann Wieland, president and CEO of BMW Brilliance Automotive.
The opening ceremony of the first BMW Joy Home Football Tournament Summer Camp was held on Wednesday in the city of Shenyang, Liaoning province.
This football camp, jointly held by China Charity Federation-BMW Warm Heart Fund and China Education Development Foundation, is intended to improve the lives of children who have been separated from their families.
The tournament grew out of the BMW Joy Home Children Care Program, which was created in 2011 and through which BMW has set up 66 schools. More than 70,000 children have benefited from the initiative so far.
In 2017, BMW Joy Home upgraded its strategy to include the new concept of Joyful Football, an innovative model that aims to improve left-behind children's physical and mental health through inventive education concepts and varied sports activities, thereby creating a better future for them.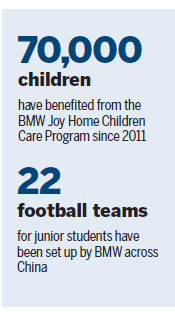 BMW Joy Home focuses on directly empowering children rather than simply supporting them through donations, Wieland said at the opening ceremony.
The new Joy Home program marked "a new year of corporate social responsibility; as I have always emphasized, we at BMW believe a successful and responsible brand is much more than just its product and its technology."
There are 10 selected BMW Joy Home football teams, made up of a total of 100 pupils, from 9 to 12 years old. They come from migrant families in a total of 10 provinces and autonomous regions across China, including Qinghai province, Heilongjiang province and the Ningxia Hui autonomous region.
The 10 teams will also take football skills training courses for a week in Shenyang before the final competition. The program is modeled as a sort of World Cup for children, according to BMW.
BMW has also set up 22 junior football teams in the 66 Joy Home schools. In addition, BMW has written a handbook to guide children's sports with professional institutions, and donated 300 copies to the schools.
BMW will build more Joy Home schools and more soccer teams across the country this year. It will also cooperate with educational institutions to further improve teachers' ability in these schools for left-behind children, according to BMW.
hanlu@chinadaily.com.cn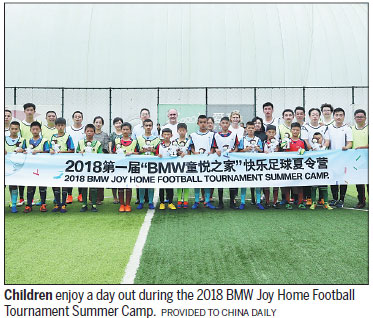 (China Daily 07/23/2018 page18)
Today's Top News
Editor's picks
Most Viewed